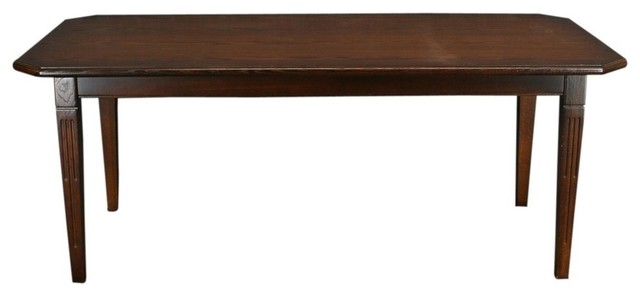 What Houzzers are commenting on:
I like the clean lines of the table. Minimal amounts of decoration yet not too plain.

Consigned Vintage 1950s French Country Oak Dining
Quantity:
Sold Out
Free Shipping!
Only 1 Left!
Product Details
Item #: 9-102-0
Dimensions (inches): 30H x 75W x 35.50D
Comment: Herees an appealing vintage 1950s French country oak dining table to complement your country or cottage decor. Measuring over 6 feet long, this vintage table should fit most dining rooms and comfortably seat six to eight people. With lovely fluted legs, rounded table edges, and squared-off corners, this vintage mid-century French table bursts with rustic appeal! Add upholstered chairs for a funky, personal touch.
Origin: France
Date: 1950
Material: Oak
Availability: Available for Immediate Shipment.
Condition
Condition: GOOD
In overall good condition. Antique and vintage items by their very nature show normal wear to finish and miscellaneous scratches, nicks, and dings due to age and use. As we define 'good condition' relative to the stated age of the piece, we would expect to see 'character marks' consistent with that age and could include nicks or dings on a piece of furniture, normal separation at joints in wood due to expansion and contraction over time, minor damage to veneer has been stabilized, most locks functioning, most drawers and doors open or slide easily, some original trim may be missing or has been replaced with genuine period-correct substitutes or new reproductions, and there may be one or more splits in the wood due to age and use. If there has been a break in the marble, it has been repaired and the repair may be visible. There may be minor restoration that is visible. Chairs considered 'good condition' may have professional structural repairs but are considered to be structurally sound. These types of repairs may be visible upon close inspection. Upholstered items may show wear consistent with age and use and may need to be reupholstered. EuroLux Antiques makes no representation regarding the comfort of chairs or useability for the customer's particular application.
Item Specifics: Shows normal wear to finish and damage to veneer on one end due to age and use.
Shipping
This Item Ships Free within the Contiguous 48 United States and this item will be shipped via Vanline. Vanline shipments generally take between 4-8 business weeks after being picked up by the vanline at the EuroLux Gallery. Delivery times may vary depending on your exact location and the current schedule of our preferred vanline.

Additional Information
Mark: EuroLux Home
Style: French Country FRENCH COUNTRY / FRENCH PROVINCIAL
Throughout the 18th and 19th centuries, the very best furniture craftsmen in France worked in Paris. Competition for the available positions was fierce. Pieces found today that are marked with signatures from Parisian workshops are recognized as being of very high quality. However, quite a lot of furniture production also occurred outside of Paris in rural villages throughout France. Furniture makers often found apprenticeships with craftsmen far from their homes so they could bring innovative styles and increased knowledge back to their villages. Although loosely based on the styles of Louis XV and Louis XVI, provincial furniture makers developed their own interpretation of these styles, which tended to have more of a rustic charm. They often worked in oak, walnut and cherry. Chairs, especially with a ladder back design, commonly had rush-bottoms rather than upholstery.
Object: Table
Product Specifications
Manufactured By

EuroLux Home

Sold By

Width

75.0"

Depth

35.5"

Height

30.0"

Size

Dining

Materials

Oak

Category

Style
Ready to ship to the Continental U.S. in 1 - 5 days.
Product Description
Product Details
Item #: 9-102-0
Dimensions (inches): 30H x 75W x 35.50D
Comment: Herees an appealing vintage 1950s French country oak dining table to complement your country or cottage decor. Measuring over 6 feet long, this vintage table should fit most dining rooms and comfortably seat six to eight people. With lovely fluted legs, rounded table edges, and squared-off corners, this vintage mid-century French table bursts with rustic appeal! Add upholstered chairs for a funky, personal touch.
Origin: France
Date: 1950
Material: Oak
Availability: Available for Immediate Shipment.
Condition
Condition: GOOD
In overall good condition. Antique and vintage items by their very nature show normal wear to finish and miscellaneous scratches, nicks, and dings due to age and use. As we define 'good condition' relative to the stated age of the piece, we would expect to see 'character marks' consistent with that age and could include nicks or dings on a piece of furniture, normal separation at joints in wood due to expansion and contraction over time, minor damage to veneer has been stabilized, most locks functioning, most drawers and doors open or slide easily, some original trim may be missing or has been replaced with genuine period-correct substitutes or new reproductions, and there may be one or more splits in the wood due to age and use. If there has been a break in the marble, it has been repaired and the repair may be visible. There may be minor restoration that is visible. Chairs considered 'good condition' may have professional structural repairs but are considered to be structurally sound. These types of repairs may be visible upon close inspection. Upholstered items may show wear consistent with age and use and may need to be reupholstered. EuroLux Antiques makes no representation regarding the comfort of chairs or useability for the customer's particular application.
Item Specifics: Shows normal wear to finish and damage to veneer on one end due to age and use.
Shipping
This Item Ships Free within the Contiguous 48 United States and this item will be shipped via Vanline. Vanline shipments generally take between 4-8 business weeks after being picked up by the vanline at the EuroLux Gallery. Delivery times may vary depending on your exact location and the current schedule of our preferred vanline.

Additional Information
Mark: EuroLux Home
Style: French Country FRENCH COUNTRY / FRENCH PROVINCIAL
Throughout the 18th and 19th centuries, the very best furniture craftsmen in France worked in Paris. Competition for the available positions was fierce. Pieces found today that are marked with signatures from Parisian workshops are recognized as being of very high quality. However, quite a lot of furniture production also occurred outside of Paris in rural villages throughout France. Furniture makers often found apprenticeships with craftsmen far from their homes so they could bring innovative styles and increased knowledge back to their villages. Although loosely based on the styles of Louis XV and Louis XVI, provincial furniture makers developed their own interpretation of these styles, which tended to have more of a rustic charm. They often worked in oak, walnut and cherry. Chairs, especially with a ladder back design, commonly had rush-bottoms rather than upholstery.
Object: Table
Need more info? Ask a question