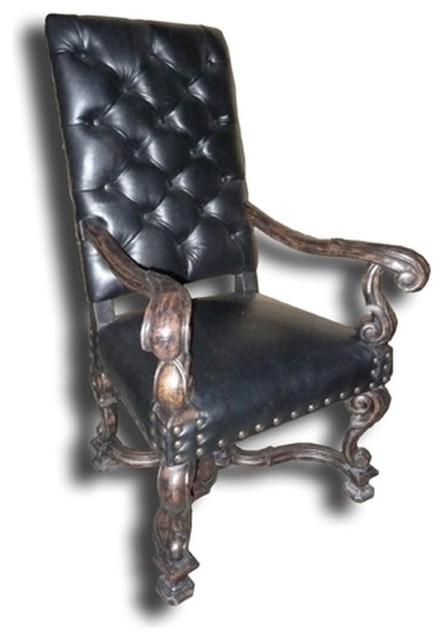 New Fireside Chair Tufted Black Leather
Quantity:
Sold Out
Free Shipping!
Only 1 Left!
Product Details
Item #: BG-115
Dimensions (inches): 50H x 26W x 21D
Comment: The authentic details on this impressive new fireside chair make it look like it belongs in a country pub in the Old Country! Upholstered in black leather with a diamond tufted back, the fireside chair boasts sturdy carved wood scrolled arms, matched with scrolled legs and curvy stretchers. Nailhead trim and an antiqued blackwash finish add to the air of authenticity on this new leather fireside chair.
Date: New
Material: LEATHER
In its broadest sense, leather is any type of tanned animal hide. Different types of leather are characterized by both the type of animal skin used and the tanning and manufacturing methods employed. Artifical leather (pleather, leatherette) is a fabric of finish intended to substitute for leather in upholstery and clothing where a leather-like finish is required but the actual natural material is cost-prohibitive or unsuitable. EuroLux Antiques uses the word leather to define both natural and artificial leather.
Color: Black, Black
Availability: This item is available for shipping within 1 to 12 weeks. Please see shipping details for estimated transit times once this item is available for shipping. Email or call for verification of stock status.
UpholsteryType: Diamond Tufted, Tufted Tufted
Condition
Condition: NEW
This is a newly made piece in excellent condition
Shipping
This Item Ships Free within the Contiguous 48 United States and this item will be shipped via Vanline. Vanline shipments generally take between 4-8 business weeks after being picked up by the vanline at the EuroLux Gallery. Delivery times may vary depending on your exact location and the current schedule of our preferred vanline.

Additional Information
Mark: EuroLux Home
Style: Reproduction
Object: Chair
Product Specifications
Manufactured By

EuroLux Home

Sold By

Width

26.0"

Depth

21.0"

Height

50.0"

Color

Black, Black

Size

Fireside

Materials

Leather

Category

Style
Ready to ship to the Continental U.S. in 3 - 7 days.
Product Description
Product Details
Item #: BG-115
Dimensions (inches): 50H x 26W x 21D
Comment: The authentic details on this impressive new fireside chair make it look like it belongs in a country pub in the Old Country! Upholstered in black leather with a diamond tufted back, the fireside chair boasts sturdy carved wood scrolled arms, matched with scrolled legs and curvy stretchers. Nailhead trim and an antiqued blackwash finish add to the air of authenticity on this new leather fireside chair.
Date: New
Material: LEATHER
In its broadest sense, leather is any type of tanned animal hide. Different types of leather are characterized by both the type of animal skin used and the tanning and manufacturing methods employed. Artifical leather (pleather, leatherette) is a fabric of finish intended to substitute for leather in upholstery and clothing where a leather-like finish is required but the actual natural material is cost-prohibitive or unsuitable. EuroLux Antiques uses the word leather to define both natural and artificial leather.
Color: Black, Black
Availability: This item is available for shipping within 1 to 12 weeks. Please see shipping details for estimated transit times once this item is available for shipping. Email or call for verification of stock status.
UpholsteryType: Diamond Tufted, Tufted Tufted
Condition
Condition: NEW
This is a newly made piece in excellent condition
Shipping
This Item Ships Free within the Contiguous 48 United States and this item will be shipped via Vanline. Vanline shipments generally take between 4-8 business weeks after being picked up by the vanline at the EuroLux Gallery. Delivery times may vary depending on your exact location and the current schedule of our preferred vanline.

Additional Information
Mark: EuroLux Home
Style: Reproduction
Object: Chair
Need more info? Ask a question