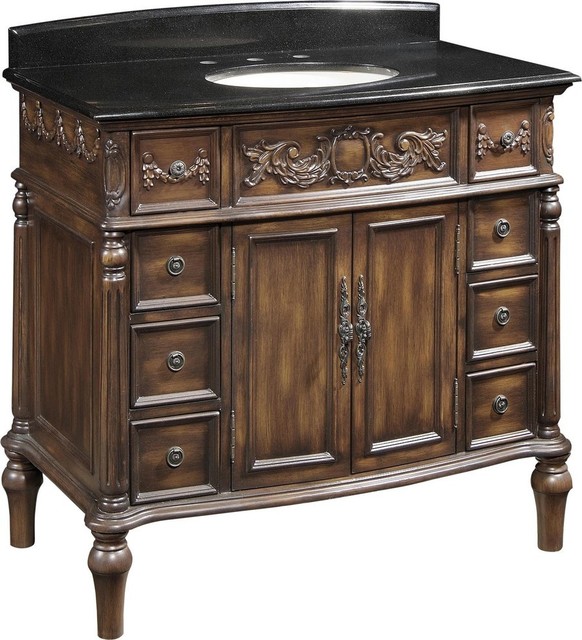 New Single Sink Vanity Black Victorian
Quantity:
Out of Stock
Free Shipping!
Only 5 Left!
Product Details
Item #: CD-20
Dimensions (inches): 36.50H x 40W x 22D
Date: New
Material: Bisque Bowl, Granite Top Bisque Bowl, Granite Top
Color: Black
Availability: Tri-View Mirror also available.
Condition
Condition: NEW
This is a newly made piece in excellent condition
Shipping
This Item Ships Free within the Contiguous 48 United States and this item will be shipped via Vanline. Vanline shipments generally take between 4-8 business weeks after being picked up by the vanline at the EuroLux Gallery. Delivery times may vary depending on your exact location and the current schedule of our preferred vanline.

Additional Information
Mark: EuroLux Home
Style: Victorian VICTORIAN STYLE
In England, the Georgian period, or the reign of the four King Georges, came to an end in 1830 with the death of George IV. Eventually the throne passed to the granddaughter of George III, Queen Victoria, who reigned from 1837 to 1901.
As the middle class rose in status and wealth with the advent of the Industrial Revolution, more people were able to afford furniture. This flattening of society in combination with technological advancements created a surge of furniture production. Improved transportation meant a greater variety of wood was available at lower costs. For the first time, furniture became accessible and affordable to the common man. From the 1830s to the end of the 19th century, furniture makers reached back to earlier historical styles and reinterpreted them with a great deal of creativity and experimentation. Although machines were used to increase speed and productivity, most of the carvings were still done by hand. Consumers were hungry for large, ornate and heavily carved furniture that would impress their friends and family and show off their newly found wealth.
After many years of war and political antagonism, France and England became allies under the reign Queen Victoria. She reached out to the French Emperor, Napoleon III, in a gesture of peace. A Rococo Revival flourished under the reign of Napoleon III, as French furniture makers reached back to the designs from the glorious court of Louis XV at Versailles for inspiration. Queen Victoria, who also enjoyed an ornate and extravagant taste in furniture and the decorative arts, became smitten with the French Rococo Revival style and it soon swept England, and eventually the United States. Mary Lincoln Todd, who was enamored of the new Rococo Revival style, purchased what is known as the Lincoln bed, which is still in place in the White House today. Trendsetters in interior design in the late 19th century loved to mix and match Rococo Revival, Eastlake, Renaissance Revival, and Gothic Revival pieces, all in the same room, and, of course, to add exuberant patterns on the wallpaper and rugs.
Object: Sink Vanity
Product Specifications
Manufactured By

EuroLux Home

Sold By

Width

40.0"

Depth

22.0"

Height

36.5"

Color

Black

Size

Single

Materials

Bisque Bowl, Granite Top

Category

Style
Ready to ship to the Continental U.S. in 1 - 6 weeks.
Product Description
Product Details
Item #: CD-20
Dimensions (inches): 36.50H x 40W x 22D
Date: New
Material: Bisque Bowl, Granite Top Bisque Bowl, Granite Top
Color: Black
Availability: Tri-View Mirror also available.
Condition
Condition: NEW
This is a newly made piece in excellent condition
Shipping
This Item Ships Free within the Contiguous 48 United States and this item will be shipped via Vanline. Vanline shipments generally take between 4-8 business weeks after being picked up by the vanline at the EuroLux Gallery. Delivery times may vary depending on your exact location and the current schedule of our preferred vanline.

Additional Information
Mark: EuroLux Home
Style: Victorian VICTORIAN STYLE
In England, the Georgian period, or the reign of the four King Georges, came to an end in 1830 with the death of George IV. Eventually the throne passed to the granddaughter of George III, Queen Victoria, who reigned from 1837 to 1901.
As the middle class rose in status and wealth with the advent of the Industrial Revolution, more people were able to afford furniture. This flattening of society in combination with technological advancements created a surge of furniture production. Improved transportation meant a greater variety of wood was available at lower costs. For the first time, furniture became accessible and affordable to the common man. From the 1830s to the end of the 19th century, furniture makers reached back to earlier historical styles and reinterpreted them with a great deal of creativity and experimentation. Although machines were used to increase speed and productivity, most of the carvings were still done by hand. Consumers were hungry for large, ornate and heavily carved furniture that would impress their friends and family and show off their newly found wealth.
After many years of war and political antagonism, France and England became allies under the reign Queen Victoria. She reached out to the French Emperor, Napoleon III, in a gesture of peace. A Rococo Revival flourished under the reign of Napoleon III, as French furniture makers reached back to the designs from the glorious court of Louis XV at Versailles for inspiration. Queen Victoria, who also enjoyed an ornate and extravagant taste in furniture and the decorative arts, became smitten with the French Rococo Revival style and it soon swept England, and eventually the United States. Mary Lincoln Todd, who was enamored of the new Rococo Revival style, purchased what is known as the Lincoln bed, which is still in place in the White House today. Trendsetters in interior design in the late 19th century loved to mix and match Rococo Revival, Eastlake, Renaissance Revival, and Gothic Revival pieces, all in the same room, and, of course, to add exuberant patterns on the wallpaper and rugs.
Object: Sink Vanity
Need more info? Ask a question