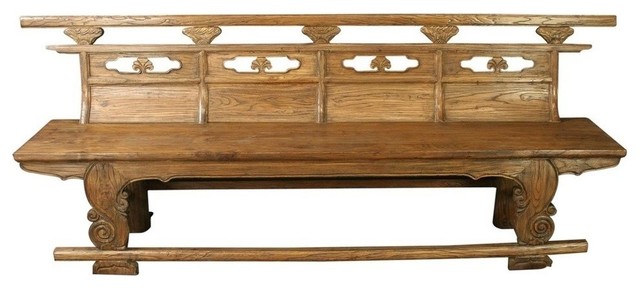 Long Consigned Antique Chinese Opera Bench Seating
Quantity:
Out of Stock
Free Shipping!
Only 1 Left!
Product Details
Item #: CF107-0
Dimensions (inches): 36.50H x 97.50W x 21D
Comment: An unusual and large Antique Chinese Opera Bench dating to 1880 in elm and from the Shanxi Province that would have originally been used for family seating during a drama or musical performance in an opera house.
Origin: Shanxi Province, China
Date: 1880
Material: ELM
Elm is one of the most commonly used woods in China due to its resistance to decay, attractive grains, and the ease with which it can be carved and used for a variety of purposes. Typically, Chinese elm blends a yellowish brown sapwood with a much bolder heartwood, so the pieces tend to contain a great deal of contrast, but elm from southern regions can be darker in color and are a bit harder. There are several sub-categories of elm found throughout China, but they are all easy to work with and were used by both wealthy people and middle class people.
Condition
Condition: RESTORED
Chinese homes were open to the elements to a much greater degree than homes in the Western world, and often did not have wooden floors. For this reason, it is highly likely that any antique Chinese piece of furniture on the market today has been restored. This particular item has been professionally restored, which may mean that some areas have been rebuilt or replaced, some hardware may not be original, and the piece has been refinished on either the interior, the exterior, or both.
Item Specifics: Shows normal wear to the finish and miscellaneous nicks, dings, and scratches due to age and use. This Antique Chinese Opera Bench has been professionally clear coat refinished.
Shipping
This Item Ships Free within the Contiguous 48 United States and this item will be shipped via Vanline. Vanline shipments generally take between 4-8 business weeks after being picked up by the vanline at the EuroLux Gallery. Delivery times may vary depending on your exact location and the current schedule of our preferred vanline.

Additional Information
Mark: EuroLux Home
Subject: FLOWERS
In Chinese culture, flowers symbolize growth, fulfillment, and prosperous new beginnings in life. In Feng Shui, flowers are also seen as symbols of success, flourishing, and good luck. And also, like in Western culture, flowers can symbolize love and unity.
Subject Keywords: Flowers
Style: Late Qing Dynasty LATE QING DYNASTY
Late Qing Dynasty
For centuries in Chinese culture, furniture was only used by the elite and high-ranking government officials. Toward the end of the Ming Dynasty (AD 1368 - 1644), there was a shift in class structure as a rising merchant class had more wealth to purchase furniture for their own homes, and this trend continued during the Qing Dynasty (AD 1645 - 1911). As furniture was seen as a status symbol for this merchant class, and especially under the influence of the Manchurian Emperor Qianlong, furniture became more and more ornately carved with geometrical patterns and animal and botanical symbols, which conveyed messages to the viewer. Late Qing Dynasty Antique Chinese Furniture is known as the people's furniture, and is also called Antique Chinese Country furniture or Antique Vernacular Chinese Furniture, and is made from softwoods such as elm and walnut. It is both attractive and functional, and in some cases should be considered Folk Art.
Object: Bench
Product Specifications
Manufactured By

EuroLux Home

Sold By

Width

97.5"

Depth

21.0"

Height

36.5"

Materials

Elm

Category

Style
Ready to ship to the Continental U.S. in 1 - 6 weeks.
Product Description
Product Details
Item #: CF107-0
Dimensions (inches): 36.50H x 97.50W x 21D
Comment: An unusual and large Antique Chinese Opera Bench dating to 1880 in elm and from the Shanxi Province that would have originally been used for family seating during a drama or musical performance in an opera house.
Origin: Shanxi Province, China
Date: 1880
Material: ELM
Elm is one of the most commonly used woods in China due to its resistance to decay, attractive grains, and the ease with which it can be carved and used for a variety of purposes. Typically, Chinese elm blends a yellowish brown sapwood with a much bolder heartwood, so the pieces tend to contain a great deal of contrast, but elm from southern regions can be darker in color and are a bit harder. There are several sub-categories of elm found throughout China, but they are all easy to work with and were used by both wealthy people and middle class people.
Condition
Condition: RESTORED
Chinese homes were open to the elements to a much greater degree than homes in the Western world, and often did not have wooden floors. For this reason, it is highly likely that any antique Chinese piece of furniture on the market today has been restored. This particular item has been professionally restored, which may mean that some areas have been rebuilt or replaced, some hardware may not be original, and the piece has been refinished on either the interior, the exterior, or both.
Item Specifics: Shows normal wear to the finish and miscellaneous nicks, dings, and scratches due to age and use. This Antique Chinese Opera Bench has been professionally clear coat refinished.
Shipping
This Item Ships Free within the Contiguous 48 United States and this item will be shipped via Vanline. Vanline shipments generally take between 4-8 business weeks after being picked up by the vanline at the EuroLux Gallery. Delivery times may vary depending on your exact location and the current schedule of our preferred vanline.

Additional Information
Mark: EuroLux Home
Subject: FLOWERS
In Chinese culture, flowers symbolize growth, fulfillment, and prosperous new beginnings in life. In Feng Shui, flowers are also seen as symbols of success, flourishing, and good luck. And also, like in Western culture, flowers can symbolize love and unity.
Subject Keywords: Flowers
Style: Late Qing Dynasty LATE QING DYNASTY
Late Qing Dynasty
For centuries in Chinese culture, furniture was only used by the elite and high-ranking government officials. Toward the end of the Ming Dynasty (AD 1368 - 1644), there was a shift in class structure as a rising merchant class had more wealth to purchase furniture for their own homes, and this trend continued during the Qing Dynasty (AD 1645 - 1911). As furniture was seen as a status symbol for this merchant class, and especially under the influence of the Manchurian Emperor Qianlong, furniture became more and more ornately carved with geometrical patterns and animal and botanical symbols, which conveyed messages to the viewer. Late Qing Dynasty Antique Chinese Furniture is known as the people's furniture, and is also called Antique Chinese Country furniture or Antique Vernacular Chinese Furniture, and is made from softwoods such as elm and walnut. It is both attractive and functional, and in some cases should be considered Folk Art.
Object: Bench
Need more info? Ask a question