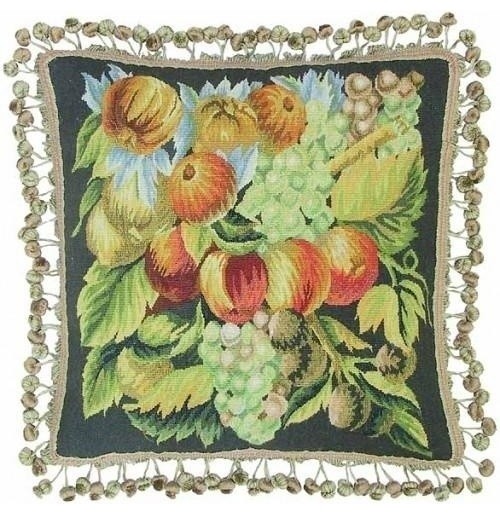 New Aubusson Throw Pillow Square 20"x20"
Product Details
Item #: CW-634
Dimensions (inches): 20H x 20W x 5D
Comment: Add a fruity note to your decor with this festive new Aubusson throw pillow that is perfect for your Country style decor. The 20 inch high and wide square Aubusson Flourishes throw pillow with a green background is crafted using traditional techniques to evoke the designs of antique Aubusson pillows, and it is trimmed with tassels.
Date: New
Color: Green
Condition
Condition: NEW
This is a newly made piece in excellent condition
Shipping
This Item Ships Free within the Contiguous 48 United States and this item will be shipped via a Ground shipping service (UPS or FedEx), approximate 1-6 business day shipping time. EuroLux may ship some packages via USPS Parcel Post, approximately 2-9 business day delivery time, at its sole discretion. All shipments include insurance.
Additional Information
Mark: EuroLux Home
Subject: Fruits
Subject Keywords: Fruits
Style: AubussonAubusson
Object: Pillow
Product Specifications
Manufactured By

EuroLux Home

Sold By

Width

20.0"

Depth

5.0"

Height

20.0"

Color

Green

Size

20" X 20"

Category

Style
Ready to ship to the Continental U.S. in 2 - 5 days.
Product Description
Product Details
Item #: CW-634
Dimensions (inches): 20H x 20W x 5D
Comment: Add a fruity note to your decor with this festive new Aubusson throw pillow that is perfect for your Country style decor. The 20 inch high and wide square Aubusson Flourishes throw pillow with a green background is crafted using traditional techniques to evoke the designs of antique Aubusson pillows, and it is trimmed with tassels.
Date: New
Color: Green
Condition
Condition: NEW
This is a newly made piece in excellent condition
Shipping
This Item Ships Free within the Contiguous 48 United States and this item will be shipped via a Ground shipping service (UPS or FedEx), approximate 1-6 business day shipping time. EuroLux may ship some packages via USPS Parcel Post, approximately 2-9 business day delivery time, at its sole discretion. All shipments include insurance.
Additional Information
Mark: EuroLux Home
Subject: Fruits
Subject Keywords: Fruits
Style: AubussonAubusson
Object: Pillow
Need more info? Ask a question