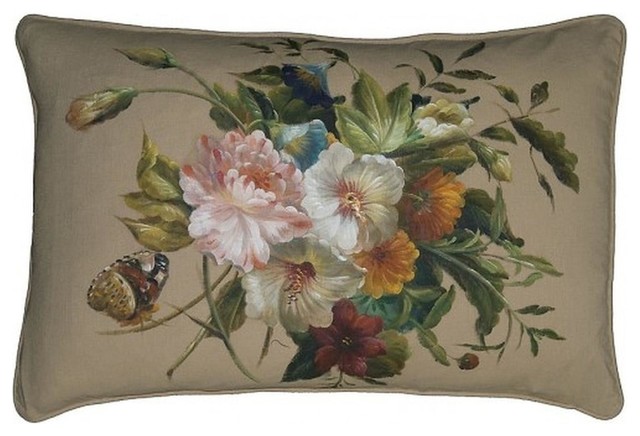 New Hand-Painted Linen Throw Pillow 16"x24"
Quantity:
Sold Out
Free Shipping!
Only 5 Left!
Product Details
Item #: CW-71
Dimensions (inches): 16H x 24W x 4D
Comment: This exquisite butterfly throw pillow is hand-painted by an artist so every one is unique! The new hand-painted linen throw pillow shows a butterfly and lavishly colorful flowers, and it is trimmed with linen piping and backed with zippered beige linen. The deluxe 16" x 24" butterfly throw pillow will charm every one who sees it!
Date: New
Material: Fabric
Color: Blue
Bulb Included: 0
Condition
Condition: NEW
This is a newly made piece in excellent condition
Shipping
This Item Ships Free within the Contiguous 48 United States and this item will be shipped via a Ground shipping service (UPS or FedEx), approximate 1-6 business day shipping time. EuroLux may ship some packages via USPS Parcel Post, approximately 2-9 business day delivery time, at its sole discretion. All shipments include insurance.
Additional Information
Mark: EuroLux Home
Subject: Butterfly
Subject Keywords: Butterfly
Style: Reproduction
Object: Throw Pillow
Product Specifications
Manufactured By

EuroLux Home

Sold By

Width

24.0"

Depth

4.0"

Height

16.0"

Size

16"x24"

Materials

Fabric

Category

Style
Ready to ship to the Continental U.S. in 2 - 5 days.
Product Description
Product Details
Item #: CW-71
Dimensions (inches): 16H x 24W x 4D
Comment: This exquisite butterfly throw pillow is hand-painted by an artist so every one is unique! The new hand-painted linen throw pillow shows a butterfly and lavishly colorful flowers, and it is trimmed with linen piping and backed with zippered beige linen. The deluxe 16" x 24" butterfly throw pillow will charm every one who sees it!
Date: New
Material: Fabric
Color: Blue
Bulb Included: 0
Condition
Condition: NEW
This is a newly made piece in excellent condition
Shipping
This Item Ships Free within the Contiguous 48 United States and this item will be shipped via a Ground shipping service (UPS or FedEx), approximate 1-6 business day shipping time. EuroLux may ship some packages via USPS Parcel Post, approximately 2-9 business day delivery time, at its sole discretion. All shipments include insurance.
Additional Information
Mark: EuroLux Home
Subject: Butterfly
Subject Keywords: Butterfly
Style: Reproduction
Object: Throw Pillow
Need more info? Ask a question