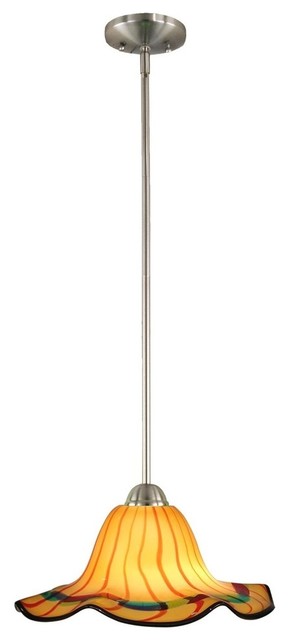 New Dale Tiffany Mini Ceiling Fixture Nickel
Quantity:
Sold Out
Free Shipping!
Only 3 Left!
Product Details
Item #: DY-1125
Dimensions (inches): 48.25H x 14W x 14L
Date: New
Material: METAL
As it is often difficult to determine the exact composition of metal objects due to the prevalent use of metal plating and alloys, EuroLux Antiques uses the term metal rather than the more specific terms copper, brass, aluminum, steel, etc. for its listings in order to avoid confusion.
Color: Nickel
Bulb Included: False
Bulb Base Type: This light fixture features an E27 Medium type bulb socket.
Bulb Wattage: 60W
Bulb Quantity: 1
Socket: OnOff
Collection: Celebration
Condition
Condition: NEW
This is a newly made piece in excellent condition
Shipping
This Item Ships Free within the Contiguous 48 United States and this item will be shipped via a Ground shipping service (UPS or FedEx), approximate 1-6 business day shipping time. EuroLux may ship some packages via USPS Parcel Post, approximately 2-9 business day delivery time, at its sole discretion. All shipments include insurance.
Additional Information
Mark: Dale Tiffany
Style: Reproduction
Object: Ceiling Fixture
Product Specifications
Manufactured By

Dale Tiffany

Sold By

Width

14.0"

Height

48.25"

Size

Mini

Materials

Metal

Category

Style
Ready to ship to the Continental U.S. in 3 - 15 days.
Product Description
Product Details
Item #: DY-1125
Dimensions (inches): 48.25H x 14W x 14L
Date: New
Material: METAL
As it is often difficult to determine the exact composition of metal objects due to the prevalent use of metal plating and alloys, EuroLux Antiques uses the term metal rather than the more specific terms copper, brass, aluminum, steel, etc. for its listings in order to avoid confusion.
Color: Nickel
Bulb Included: False
Bulb Base Type: This light fixture features an E27 Medium type bulb socket.
Bulb Wattage: 60W
Bulb Quantity: 1
Socket: OnOff
Collection: Celebration
Condition
Condition: NEW
This is a newly made piece in excellent condition
Shipping
This Item Ships Free within the Contiguous 48 United States and this item will be shipped via a Ground shipping service (UPS or FedEx), approximate 1-6 business day shipping time. EuroLux may ship some packages via USPS Parcel Post, approximately 2-9 business day delivery time, at its sole discretion. All shipments include insurance.
Additional Information
Mark: Dale Tiffany
Style: Reproduction
Object: Ceiling Fixture
Need more info? Ask a question