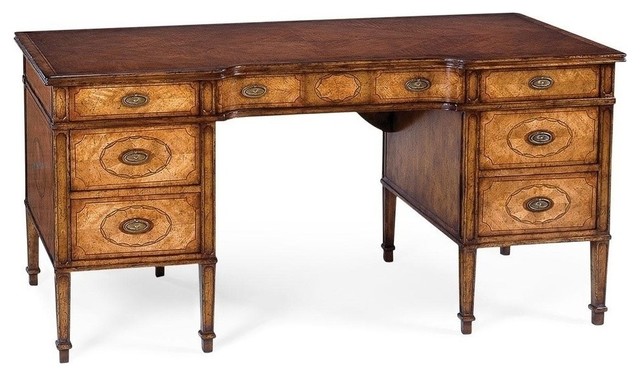 New Jonathan Charles Desk Satinwood
Quantity:
Sold Out
Free Shipping!
Only 4 Left!
Product Details
Item #: JC-147
Dimensions (inches): 30H x 62W x 28.50D
Date: New
Color: SatinwoodSatinwood Light-JC
Collection: Versailles Collection
Availability: This item is available for shipping within 8 to 14 weeks. Please see shipping details for estimated transit times once this item is available for shipping.
Condition
Condition: NEW
This is a newly made piece in excellent condition
Shipping
This Item Ships Free within the Lower 48 US States This Item Ships Free within the Lower 48 US States only applies within the Contiguous 48 United States and this item will be shipped via Vanline. Vanline shipments generally take between 2-8 business weeks after being picked up by the vanline at the EuroLux Gallery. Delivery times may vary depending on your exact location and the current schedule of our preferred vanline.

Additional Information
Mark: Jonathan Charles
Style: Reproduction
Object: Desk
Product Specifications
Manufactured By

Jonathan Charles

Sold By

Width

62"

Depth

28.5"

Height

30"

Category

Style
Ready to ship to the Continental U.S. in 14 - 22 weeks.
Product Description
Product Details
Item #: JC-147
Dimensions (inches): 30H x 62W x 28.50D
Date: New
Color: SatinwoodSatinwood Light-JC
Collection: Versailles Collection
Availability: This item is available for shipping within 8 to 14 weeks. Please see shipping details for estimated transit times once this item is available for shipping.
Condition
Condition: NEW
This is a newly made piece in excellent condition
Shipping
This Item Ships Free within the Lower 48 US States This Item Ships Free within the Lower 48 US States only applies within the Contiguous 48 United States and this item will be shipped via Vanline. Vanline shipments generally take between 2-8 business weeks after being picked up by the vanline at the EuroLux Gallery. Delivery times may vary depending on your exact location and the current schedule of our preferred vanline.

Additional Information
Mark: Jonathan Charles
Style: Reproduction
Object: Desk
Need more info? Ask a question