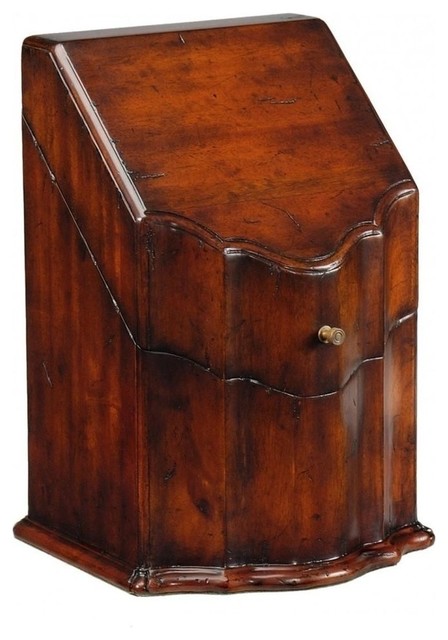 New Jonathan Charles Knife Box Buckingham
Quantity:
Sold Out
Free Shipping!
Only 5 Left!
Product Details
Item #: JC-576
Dimensions (inches): 14.50H x 9.75W x 9.25D
Comment: Crafted in mahogany and a replica of an original knife box from 1770, this stunning new Jonathan Charles knife box will make a great wedding gift or an unusual accent in your own home. The Jonathan Charles knife box from the Buckingham Collection opens on hinges to store papers or other items. The stepped front and sloping lid of the Jonathan Charles Buckingham knife box are enhanced by a distressed finish.
Date: New
Color: MahoganyAntique Mahogany Medium-JC
Collection: Buckingham Collection
Availability: This item is available for shipping within 8 to 14 weeks. Please see shipping details for estimated transit times once this item is available for shipping.
Condition
Condition: NEW
This is a newly made piece in excellent condition
Shipping
This Item Ships Free within the Contiguous 48 United States and this item will be shipped via a Ground shipping service (UPS or FedEx), approximate 1-6 business day shipping time. EuroLux may ship some packages via USPS Parcel Post, approximately 2-9 business day delivery time, at its sole discretion. All shipments include insurance.
Additional Information
Mark: Jonathan Charles
Style: Reproduction
Object: Knife Box
Product Specifications
Manufactured By

Jonathan Charles

Sold By

Width

9.75"

Depth

9.25"

Height

14.5"

Category

Style
Ready to ship to the Continental U.S. in 8 - 14 weeks.
Product Description
Product Details
Item #: JC-576
Dimensions (inches): 14.50H x 9.75W x 9.25D
Comment: Crafted in mahogany and a replica of an original knife box from 1770, this stunning new Jonathan Charles knife box will make a great wedding gift or an unusual accent in your own home. The Jonathan Charles knife box from the Buckingham Collection opens on hinges to store papers or other items. The stepped front and sloping lid of the Jonathan Charles Buckingham knife box are enhanced by a distressed finish.
Date: New
Color: MahoganyAntique Mahogany Medium-JC
Collection: Buckingham Collection
Availability: This item is available for shipping within 8 to 14 weeks. Please see shipping details for estimated transit times once this item is available for shipping.
Condition
Condition: NEW
This is a newly made piece in excellent condition
Shipping
This Item Ships Free within the Contiguous 48 United States and this item will be shipped via a Ground shipping service (UPS or FedEx), approximate 1-6 business day shipping time. EuroLux may ship some packages via USPS Parcel Post, approximately 2-9 business day delivery time, at its sole discretion. All shipments include insurance.
Additional Information
Mark: Jonathan Charles
Style: Reproduction
Object: Knife Box
Need more info? Ask a question