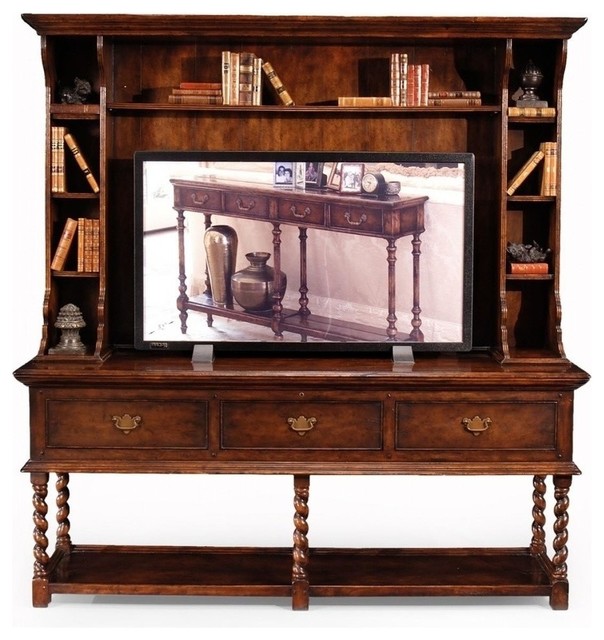 New Jonathan Charles TV Cabinet Walnut
Quantity:
Out of Stock
Free Shipping!
Only 0 Left!
Product Details
Item #: JC-701
Dimensions (inches): 80.75H x 77.75W x 21D
Date: New
Material: Walnut
Color: WalnutWalnut Dark-JC
Collection: Country Farmhouse Collection
Availability: Special Order Item - Please Allow 14 to 22 Weeks for Delivery.
Condition
Condition: NEW
This is a newly made piece in excellent condition
Shipping
This Item Ships Free within the Lower 48 US States This Item Ships Free within the Lower 48 US States only applies within the Contiguous 48 United States and this item will be shipped via Vanline. Vanline shipments generally take between 2-8 business weeks after being picked up by the vanline at the EuroLux Gallery. Delivery times may vary depending on your exact location and the current schedule of our preferred vanline.

Additional Information
Mark: Jonathan Charles
Style: French Country FRENCH COUNTRY / FRENCH PROVINCIAL
Throughout the 18th and 19th centuries, the very best furniture craftsmen in France worked in Paris. Competition for the available positions was fierce. Pieces found today that are marked with signatures from Parisian workshops are recognized as being of very high quality. However, quite a lot of furniture production also occurred outside of Paris in rural villages throughout France. Furniture makers often found apprenticeships with craftsmen far from their homes so they could bring innovative styles and increased knowledge back to their villages. Although loosely based on the styles of Louis XV and Louis XVI, provincial furniture makers developed their own interpretation of these styles, which tended to have more of a rustic charm. They often worked in oak, walnut and cherry. Chairs, especially with a ladder back design, commonly had rush-bottoms rather than upholstery.
Object: TV Cabinet
Product Specifications
Manufactured By

Jonathan Charles

Sold By

Width

77.75"

Depth

21.0"

Height

80.75"

Materials

Walnut

Category

Style
Ready to ship to the Continental U.S. in 1 - 6 weeks.
Product Description
Product Details
Item #: JC-701
Dimensions (inches): 80.75H x 77.75W x 21D
Date: New
Material: Walnut
Color: WalnutWalnut Dark-JC
Collection: Country Farmhouse Collection
Availability: Special Order Item - Please Allow 14 to 22 Weeks for Delivery.
Condition
Condition: NEW
This is a newly made piece in excellent condition
Shipping
This Item Ships Free within the Lower 48 US States This Item Ships Free within the Lower 48 US States only applies within the Contiguous 48 United States and this item will be shipped via Vanline. Vanline shipments generally take between 2-8 business weeks after being picked up by the vanline at the EuroLux Gallery. Delivery times may vary depending on your exact location and the current schedule of our preferred vanline.

Additional Information
Mark: Jonathan Charles
Style: French Country FRENCH COUNTRY / FRENCH PROVINCIAL
Throughout the 18th and 19th centuries, the very best furniture craftsmen in France worked in Paris. Competition for the available positions was fierce. Pieces found today that are marked with signatures from Parisian workshops are recognized as being of very high quality. However, quite a lot of furniture production also occurred outside of Paris in rural villages throughout France. Furniture makers often found apprenticeships with craftsmen far from their homes so they could bring innovative styles and increased knowledge back to their villages. Although loosely based on the styles of Louis XV and Louis XVI, provincial furniture makers developed their own interpretation of these styles, which tended to have more of a rustic charm. They often worked in oak, walnut and cherry. Chairs, especially with a ladder back design, commonly had rush-bottoms rather than upholstery.
Object: TV Cabinet
Need more info? Ask a question