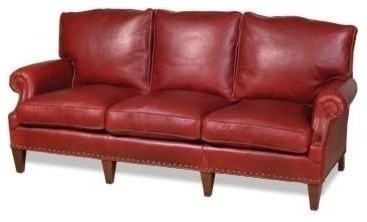 Sleek New Leather Sofa USA Hand-Crafted
Quantity:
Out of Stock
Free Shipping!
Only 1 Left!
Product Details
Item #: MK-238
Dimensions (inches): 36H x 81W x 38D
Inside Dimensions 17H x 67W x 22D ;
Seat 20H ;
Arm 25H ;
Seat Height Extended 24H ;
Arm Height Extended 31.50H
Comment: The timeless refinement of this new leather sofa will work beautifully in your traditional or contemporary style decor. The elegant 3-seater leather sofa is hand-crafted in the USA with a solid wood frame and top grain leather. Combining substance and style, the sofa is almost 7 feet long. Shown in a handsome red, the made-to-order sofa can be customized to your taste in a wide palette of colors and with other design options too.
Date: New
Material: Wood, Leather
LEATHER
In its broadest sense, leather is any type of tanned animal hide. Different types of leather are characterized by both the type of animal skin used and the tanning and manufacturing methods employed. Artifical leather (pleather, leatherette) is a fabric of finish intended to substitute for leather in upholstery and clothing where a leather-like finish is required but the actual natural material is cost-prohibitive or unsuitable. EuroLux Antiques uses the word leather to define both natural and artificial leather.
Misc: Non-Removable Leg, Hand-CraftedNon-Removable Leg,
Availability: Hand Made to Order., Available in nearly 100 colors of leather. Call or email for details., Allow 6 weeks for production., Contrasting Welt or Gimp Available at Additional Charge , , , Contrasting Welt or Gimp Available at Additional Charge
COM: 185 sq ft/14 yds
UpholsteryType: Poly Fiber, Loose Cushion, Loose Cushion, Plush Seat Fill Fiber Back Fill, Loose Velcro Back, Loose Elastic Seat, Plush Seat Fill
Condition
Condition: NEW
This is a newly made piece in excellent condition
Shipping
This Item Ships Free within the Lower 48 US States This Item Ships Free within the Lower 48 US States only applies within the Contiguous 48 United States and this item will be shipped via Vanline. Vanline shipments generally take between 2-8 business weeks after being picked up by the vanline at the EuroLux Gallery. Delivery times may vary depending on your exact location and the current schedule of our preferred vanline.

Additional Information
Mark: EuroLux Home
Style: Reproduction
Object: Sofa
Product Specifications
Manufactured By

EuroLux Home

Sold By

Width

81.0"

Depth

38.0"

Height

36.0"

Materials

Wood, Leather

Category

Style
Ready to ship to the Continental U.S. in 1 - 6 weeks.
Product Description
Product Details
Item #: MK-238
Dimensions (inches): 36H x 81W x 38D
Inside Dimensions 17H x 67W x 22D ;
Seat 20H ;
Arm 25H ;
Seat Height Extended 24H ;
Arm Height Extended 31.50H
Comment: The timeless refinement of this new leather sofa will work beautifully in your traditional or contemporary style decor. The elegant 3-seater leather sofa is hand-crafted in the USA with a solid wood frame and top grain leather. Combining substance and style, the sofa is almost 7 feet long. Shown in a handsome red, the made-to-order sofa can be customized to your taste in a wide palette of colors and with other design options too.
Date: New
Material: Wood, Leather
LEATHER
In its broadest sense, leather is any type of tanned animal hide. Different types of leather are characterized by both the type of animal skin used and the tanning and manufacturing methods employed. Artifical leather (pleather, leatherette) is a fabric of finish intended to substitute for leather in upholstery and clothing where a leather-like finish is required but the actual natural material is cost-prohibitive or unsuitable. EuroLux Antiques uses the word leather to define both natural and artificial leather.
Misc: Non-Removable Leg, Hand-CraftedNon-Removable Leg,
Availability: Hand Made to Order., Available in nearly 100 colors of leather. Call or email for details., Allow 6 weeks for production., Contrasting Welt or Gimp Available at Additional Charge , , , Contrasting Welt or Gimp Available at Additional Charge
COM: 185 sq ft/14 yds
UpholsteryType: Poly Fiber, Loose Cushion, Loose Cushion, Plush Seat Fill Fiber Back Fill, Loose Velcro Back, Loose Elastic Seat, Plush Seat Fill
Condition
Condition: NEW
This is a newly made piece in excellent condition
Shipping
This Item Ships Free within the Lower 48 US States This Item Ships Free within the Lower 48 US States only applies within the Contiguous 48 United States and this item will be shipped via Vanline. Vanline shipments generally take between 2-8 business weeks after being picked up by the vanline at the EuroLux Gallery. Delivery times may vary depending on your exact location and the current schedule of our preferred vanline.

Additional Information
Mark: EuroLux Home
Style: Reproduction
Object: Sofa
Need more info? Ask a question