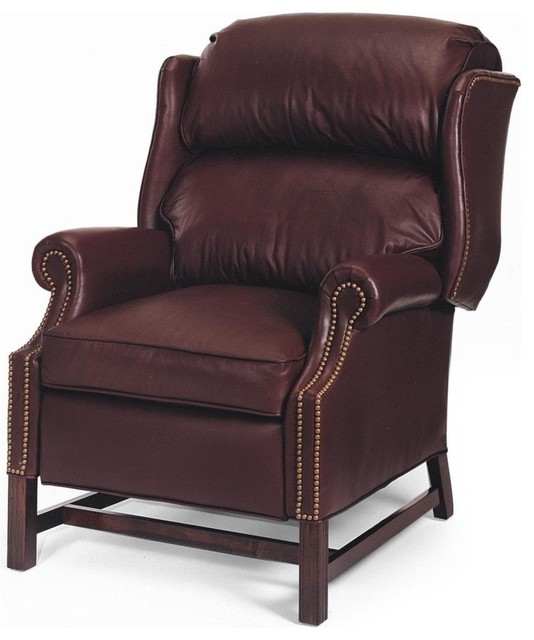 What Houzzers are commenting on:

Paula Cowdrey
added this to
bedford
June 28, 2014
Too big...poofy
New Chair Chippendale Wood Leather No
Quantity:
Sold Out
Free Shipping!
Only 1 Left!
Product Details
Item #: MK-33
Dimensions (inches): 42H x 33W x 43D
Inside Dimensions 26H x 21W x 20D ;
Seat 21H ;
Arm 27H ;
Seat Height Extended 24H ;
Arm Height Extended 31.50H
Date: New
Material: Wood, Leather
LEATHER
In its broadest sense, leather is any type of tanned animal hide. Different types of leather are characterized by both the type of animal skin used and the tanning and manufacturing methods employed. Artifical leather (pleather, leatherette) is a fabric of finish intended to substitute for leather in upholstery and clothing where a leather-like finish is required but the actual natural material is cost-prohibitive or unsuitable. EuroLux Antiques uses the word leather to define both natural and artificial leather.
Misc: No Nailhead Trim, Hand-CraftedNo Nailhead Trim,
Availability: Hand Made to Order., Available in nearly 100 colors of leather. Call or email for details., Allow 6 weeks for production., Contrasting Welt or Gimp Available at Additional Charge , , , Contrasting Welt or Gimp Available at Additional Charge
COM: 120 sq ft/7 yds
UpholsteryType: Poly Fiber, Loose Cushion, Semi-Attached Cushion, Poly Fiber Poly Fiber Seat Fill, Loose Velcro Seat, Semi-Attached Back, Fiber Back Fill
Condition
Condition: NEW
This is a newly made piece in excellent condition
Shipping
This Item Ships Free within the Lower 48 US States This Item Ships Free within the Lower 48 US States only applies within the Contiguous 48 United States and this item will be shipped via Vanline. Vanline shipments generally take between 2-8 business weeks after being picked up by the vanline at the EuroLux Gallery. Delivery times may vary depending on your exact location and the current schedule of our preferred vanline.

Additional Information
Mark: EuroLux Home
Style: Chippendale CHIPPENDALE STYLE
Thomas Chippendale (1718 e 1779), the famous English furniture maker, was born in Yorkshire around 1718 and secured his place in furniture history by publishing his theories on furniture design and manufacture, entitled The Gentleman and Cabinet-Makeres Director, in three editions in 1754, 1755 and 1762. This revolutionary text, which included over 200 drawings, spread throughout England and the United States and has highly influenced furniture production ever since.
The trademarks of the Chippendale style are the ribbon/ribband back and the ball and claw foot. Chippendale took the solid wood vase- or fiddle-shaped splat (horizontal bar) of the Queen Anne chair back and pierced the wood with a spiraling ribbon motif. The resulting splat is known as a ribbon or ribband (both terms are equally used) chair back. The Chippendale style is synonymous with the Chinese motif of the ball and claw foot. English society had become enamored with Chinese style since England started trading in the Canton region of China in 1635. Tea, silk, and blue and white porcelain were enormously popular. The ball and claw foot design, popularly found on Chinese furniture, is drawn from Chinese mythology, symbolizing a dragones paw holding the pearl of wisdom.
Object: Recliner
Product Specifications
Manufactured By

EuroLux Home

Sold By

Width

33"

Depth

43"

Height

42"

Materials

Wood, Leather

Category

Style
Ready to ship to the Continental U.S. in 4 - 6 weeks.
Product Description
Product Details
Item #: MK-33
Dimensions (inches): 42H x 33W x 43D
Inside Dimensions 26H x 21W x 20D ;
Seat 21H ;
Arm 27H ;
Seat Height Extended 24H ;
Arm Height Extended 31.50H
Date: New
Material: Wood, Leather
LEATHER
In its broadest sense, leather is any type of tanned animal hide. Different types of leather are characterized by both the type of animal skin used and the tanning and manufacturing methods employed. Artifical leather (pleather, leatherette) is a fabric of finish intended to substitute for leather in upholstery and clothing where a leather-like finish is required but the actual natural material is cost-prohibitive or unsuitable. EuroLux Antiques uses the word leather to define both natural and artificial leather.
Misc: No Nailhead Trim, Hand-CraftedNo Nailhead Trim,
Availability: Hand Made to Order., Available in nearly 100 colors of leather. Call or email for details., Allow 6 weeks for production., Contrasting Welt or Gimp Available at Additional Charge , , , Contrasting Welt or Gimp Available at Additional Charge
COM: 120 sq ft/7 yds
UpholsteryType: Poly Fiber, Loose Cushion, Semi-Attached Cushion, Poly Fiber Poly Fiber Seat Fill, Loose Velcro Seat, Semi-Attached Back, Fiber Back Fill
Condition
Condition: NEW
This is a newly made piece in excellent condition
Shipping
This Item Ships Free within the Lower 48 US States This Item Ships Free within the Lower 48 US States only applies within the Contiguous 48 United States and this item will be shipped via Vanline. Vanline shipments generally take between 2-8 business weeks after being picked up by the vanline at the EuroLux Gallery. Delivery times may vary depending on your exact location and the current schedule of our preferred vanline.

Additional Information
Mark: EuroLux Home
Style: Chippendale CHIPPENDALE STYLE
Thomas Chippendale (1718 e 1779), the famous English furniture maker, was born in Yorkshire around 1718 and secured his place in furniture history by publishing his theories on furniture design and manufacture, entitled The Gentleman and Cabinet-Makeres Director, in three editions in 1754, 1755 and 1762. This revolutionary text, which included over 200 drawings, spread throughout England and the United States and has highly influenced furniture production ever since.
The trademarks of the Chippendale style are the ribbon/ribband back and the ball and claw foot. Chippendale took the solid wood vase- or fiddle-shaped splat (horizontal bar) of the Queen Anne chair back and pierced the wood with a spiraling ribbon motif. The resulting splat is known as a ribbon or ribband (both terms are equally used) chair back. The Chippendale style is synonymous with the Chinese motif of the ball and claw foot. English society had become enamored with Chinese style since England started trading in the Canton region of China in 1635. Tea, silk, and blue and white porcelain were enormously popular. The ball and claw foot design, popularly found on Chinese furniture, is drawn from Chinese mythology, symbolizing a dragones paw holding the pearl of wisdom.
Object: Recliner
Need more info? Ask a question