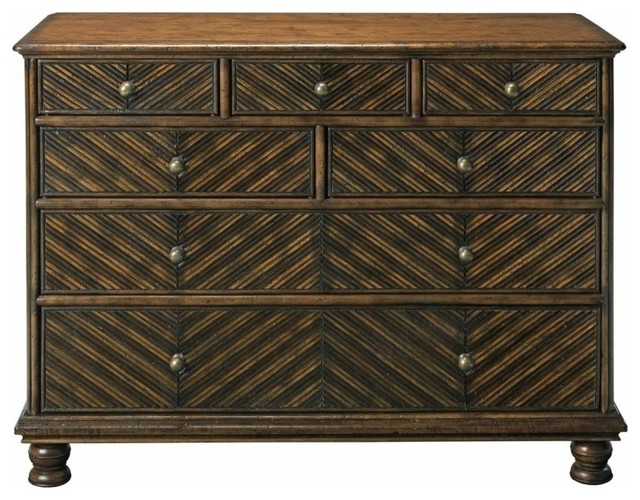 New Chest of Drawers Brown/Beige/Tan Mindi
Quantity:
Out of Stock
Free Shipping!
Only 1 Left!
Product Details
Item #: WB-626
Dimensions (inches): 36H x 48W x 19D
Comment: The rattan herringbone pattern decorating this magnificent Adirondack style chest of drawers is sure to entice you! The new chest of drawers offers plenty of storage space in its seven drawers of different sizes. It would look dress up your bedroom or hallway, or even to help you keep stylishly organized in your home office! Made of mindi wood and rattan, with a hand-rubbed finish, the new chest of drawers stands 36 inches high, and measures 48 inches wide by 19 inches deep.
Date: New
Material: Mindi Wood
Color: Dark BrownDark Chateau Finish-WB
Bulb Included: 0
Collection: Adirondack
Availability:
Condition
Condition: NEW
This is a newly made piece in excellent condition
Shipping
Free Shipping: Free shipping only applies within the Contiguous 48 United States and this item will be shipped via Vanline. Vanline shipments generally take between 4-8 business weeks after being picked up by the vanline at the EuroLux Gallery. Delivery times may vary depending on your exact location and the current schedule of our preferred vanline.
If this timeframe exceeds your expectations or shipping requirements, please do not purchase this item or you may contact EuroLux Antiques for a more accurate delivery time estimate. All shipments include insurance. Larger antique pieces will be shipped via a white glove vanline service and will be delivered into your home and set up. Smaller antique pieces and new furniture pieces may be shipped via freight or vanline and may be delivered curbside to your home. EuroLux will determine the final shipping carrier and final vanline delivery method at its sole discretion. In accordance with our full
Product Specifications
Manufactured By

EuroLux Home

Sold By

Width

48.0"

Depth

19.0"

Height

36.0"

Color

Dark Brown

Materials

Mindi Wood

Category

Style
Ready to ship to the Continental U.S. in 1 - 6 weeks.
Product Description
Product Details
Item #: WB-626
Dimensions (inches): 36H x 48W x 19D
Comment: The rattan herringbone pattern decorating this magnificent Adirondack style chest of drawers is sure to entice you! The new chest of drawers offers plenty of storage space in its seven drawers of different sizes. It would look dress up your bedroom or hallway, or even to help you keep stylishly organized in your home office! Made of mindi wood and rattan, with a hand-rubbed finish, the new chest of drawers stands 36 inches high, and measures 48 inches wide by 19 inches deep.
Date: New
Material: Mindi Wood
Color: Dark BrownDark Chateau Finish-WB
Bulb Included: 0
Collection: Adirondack
Availability:
Condition
Condition: NEW
This is a newly made piece in excellent condition
Shipping
Free Shipping: Free shipping only applies within the Contiguous 48 United States and this item will be shipped via Vanline. Vanline shipments generally take between 4-8 business weeks after being picked up by the vanline at the EuroLux Gallery. Delivery times may vary depending on your exact location and the current schedule of our preferred vanline.
If this timeframe exceeds your expectations or shipping requirements, please do not purchase this item or you may contact EuroLux Antiques for a more accurate delivery time estimate. All shipments include insurance. Larger antique pieces will be shipped via a white glove vanline service and will be delivered into your home and set up. Smaller antique pieces and new furniture pieces may be shipped via freight or vanline and may be delivered curbside to your home. EuroLux will determine the final shipping carrier and final vanline delivery method at its sole discretion. In accordance with our full
Need more info? Ask a question