NIMMO American Studio For Progressive Architecture
Architects & Building Designers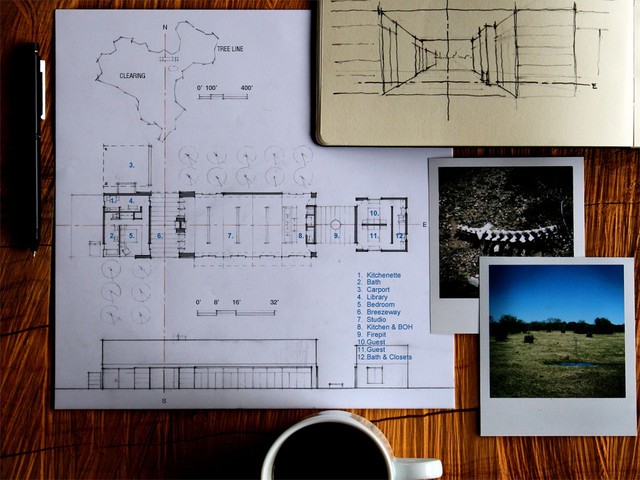 Joshua Nimmo
Rural, Studio, Metal, Barn, Sustainable, Affordable
What Houzz contributors are saying:

Nimmo's drawings and photos documenting his design illustrate how the plan works and what inspired it. The latter is a cow spine that was discovered on an early site visit. According to Nimmo, "The modules of the residence/studio mimic the segmentation of the vertebrae of a spine: main suite plus breezeway plus studio plus fire pit plus guest cabana." These spaces move from left to right (west to east) on the plan, with the studio having the most indoor square footage.

"Marketing" defined. This probably isn't something you've had a lot of experience with as an employee. Projects were probably handed to you. It's certainly nothing I was ever taught in architecture school. But as a business owner, an entrepreneur and a CEO, you'll devote a lot of time to marketing — not only to get projects but also to make sure your brand is delivering on the promises you've made. At its core the goal of marketing is to let people (your target market) know what you do (your unique selling proposition, or USP) and how you do it (your narrative). Once you've put some time in and have developed projects, you'll come to know that marketing actually extends far beyond these early steps, touching almost every aspect of the way you run your business. From keeping clients happy and projects running smoothly to writing emails and contract agreements, it's all marketing. You want to be sure your clients, your project team and all of the contractors, consultants and collaborators all have a positive professional experience with your brand. Ideally, you want that experience to be one that warrants their recommending you to others.

The PresentationThe elements in this photo are what a designer might use to present an overall idea to a client. Inspiration photos and a variety of drawings show how the building is sited, what the views are like and how the space is organized. The landscape architect will use images and drawings to walk you through the design ideas and layout. He or she will begin with a concept or an inspiration and an explanation of the major ideas and layout, supported by more detailed drawings. The landscape architect often will present one overall scheme for the design as a concept-level plan and then show additional options, such as material choices, types of plants and layout schemes for major site elements for specific areas. Find landscape architects in your area
What Houzzers are commenting on: