Decor NYC
Furniture and Accessories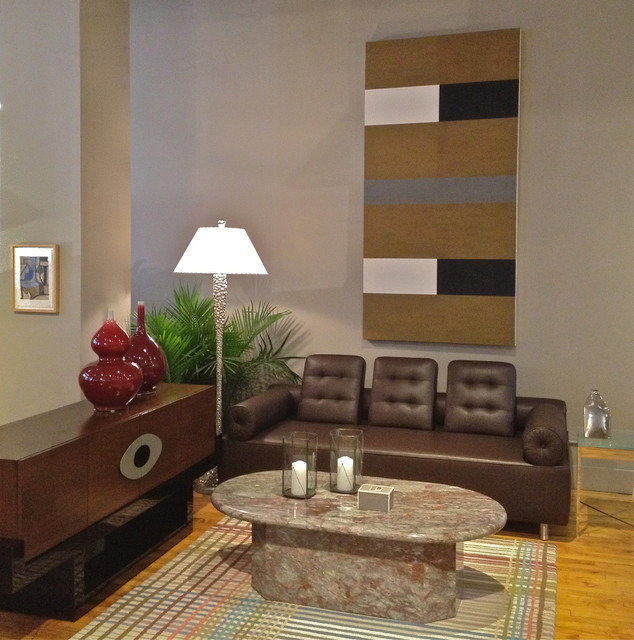 Decor NYC Weekly Design Discovery
Brooklyn Street Sofa by Naula:
Brown Leather Sofa
w/ Brushed Metal Finish legs, its unique design features separated back cushions and bolster arms make this a true individual with style.
Dimensions: 39 x 82 x 40
Price: $7400
Elizabeth Credenza by Naula, is handcrafted in walnut and black Lacquer, combining modern sensibilities and
nostalgic
folklore with modern sensibilities in design.
Dimensions: 30 x 72 x 19
Price: $5200
"Hand-knotted
Julian
Jasper" Carpet by Alexander Julian
Dimensions: 6' x 9'
Price: $595
Eden Roc Floor Lamp from Lorin Marsh by Alpha Workshops. This amazing design is hand cast from Hydrocal, a durable polymerized plaster the resists any damage.
Price: $2100
San Miguel Luminaries - Delicate handmade, elegant curved glass with a hinged side that opens for easy access
Dimension: 5.75 W x 11" H
Price: $98 each
Custom Marble Coffee Table - Grey, white and rose colored slab with a polished finish and a radius edge.
Dimensions: 54" x 29" x 17"
Price: $2200
Taupe
Shagreen
Decorative Box
Dimensions: 5" x 4" x 3"
Price: $ 450
Chinese Oxblood Gourd Glazed Jar/Vase
Dimension: 20" H & 21H
Price: $500 (20") & $400 (21")
"Assumption" Painting by John Groom
Dimensions: 42" x 84"
Price: $7500
Monotype by Margrit Lewczuk: Untitled 1987, on Handmade Paper
Frame Dimensions: 12" x 16"
Price: $950
URL

Style

Contemporary

Location

New York