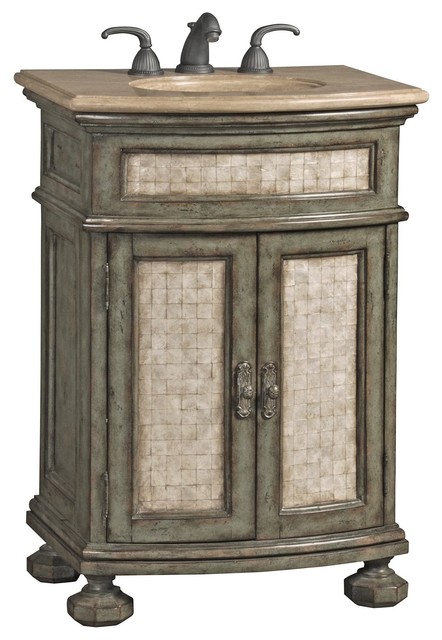 New Ambella Home Petite Sink Chest
Quantity:
Out of Stock
Free Shipping!
Only 1 Left!
Product Details

Item #: AH-339

Dimensions (inches): 36H x 25W x 19D

Comment: Stunning capiz shell veneer on the doors and a beautiful marble counter make this new Ambella Home Andalusian petite sink chest an exceptional addition to your home. Painted soft green with an antiqued finish, it will make a handsome statement in the powder room or anywhere you want the beauty and functionality of a narrow sink chest. Choose your own faucet set to pair with the Ambella Home Andalusian petite sink chest,

measuring 25 inches wide.

Date: New

Collection: Andalusian

Availability:

Faucet set shown is not included.

Condition: NEW

This is a newly made piece in excellent Shipping

This Item Ships Free within the Lower 48 US States

This Item Ships Free within the Lower 48 US States only applies within the Contiguous 48 United States and this item will be shipped via Greyhound Bus. Shipments via Greyhound generally take between 1-3 weeks, as they are shipped space available by Greyhound Package Express.

If this timeframe exceeds your expectations or shipping requirements, please do not purchase this item. Shipments made via Greyhound Bus measure less than (inches) 30 x 47 x 84 and weigh less than 100 lbs per box. Shipments using Greyhound will require the customer to pick up the piece at their nearest Greyhound Bus Station. Please be sure that you are willing to pick the item up at the nearest Greyhound Station, as the nearest Greyhound Station may be a considerable distance from your home.

Items not picked up at the Greyhound Bus Station within 48 hours after arrival may be subject to a storage fee, which varies from station to station. EuroLux will be happy to help you locate the nearest Greyhound Station. All shipments include Insurance.

Additional Information

Mark: Ambella Home

Style: Reproduction

Object: Sink Chest
Product Specifications
Manufactured By

Ambella Home

Sold By

Width

25.0"

Depth

19.0"

Height

36.0"

Size

Petite

Category

Style
Ready to ship to the Continental U.S. in 3 - 7 days.
Product Description
Product Details

Item #: AH-339

Dimensions (inches): 36H x 25W x 19D

Comment: Stunning capiz shell veneer on the doors and a beautiful marble counter make this new Ambella Home Andalusian petite sink chest an exceptional addition to your home. Painted soft green with an antiqued finish, it will make a handsome statement in the powder room or anywhere you want the beauty and functionality of a narrow sink chest. Choose your own faucet set to pair with the Ambella Home Andalusian petite sink chest,

measuring 25 inches wide.

Date: New

Collection: Andalusian

Availability:

Faucet set shown is not included.

Condition: NEW

This is a newly made piece in excellent Shipping

This Item Ships Free within the Lower 48 US States

This Item Ships Free within the Lower 48 US States only applies within the Contiguous 48 United States and this item will be shipped via Greyhound Bus. Shipments via Greyhound generally take between 1-3 weeks, as they are shipped space available by Greyhound Package Express.

If this timeframe exceeds your expectations or shipping requirements, please do not purchase this item. Shipments made via Greyhound Bus measure less than (inches) 30 x 47 x 84 and weigh less than 100 lbs per box. Shipments using Greyhound will require the customer to pick up the piece at their nearest Greyhound Bus Station. Please be sure that you are willing to pick the item up at the nearest Greyhound Station, as the nearest Greyhound Station may be a considerable distance from your home.

Items not picked up at the Greyhound Bus Station within 48 hours after arrival may be subject to a storage fee, which varies from station to station. EuroLux will be happy to help you locate the nearest Greyhound Station. All shipments include Insurance.

Additional Information

Mark: Ambella Home

Style: Reproduction

Object: Sink Chest
Need more info? Ask a question