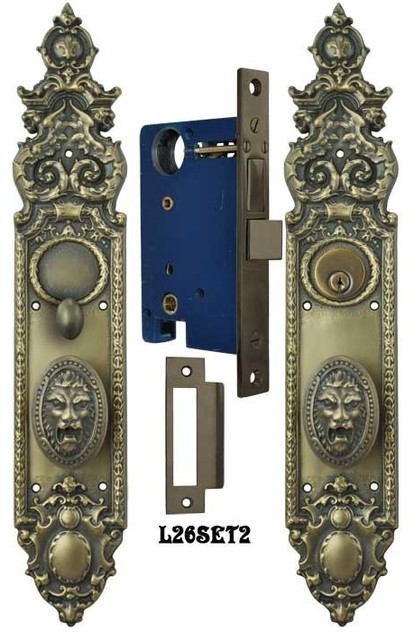 Vintage Style Door Hardware Sets
L26SET2 Victorian Heraldic Doorplate with Pavia Lion Knob Entry Door Set

Victorian Style Brass Heraldic Door Plate, cast in solid brass and paired with two Roaring Lion doorknobs by Corbin from their Circa 1900 catalog, called the Pavia Pattern.

This complete door set is hand finished in our Antique Brass Finish.

The complete set includes:

1. One Interior Doorplate with Turnlatch

2. One Exterior Doorplate

3. One Entry Mortise Lock

4. Two Doorknobs with Connecting Spindle

5. One Cylinder Lock, with choice of 1", 1 1/4", 1 1/2" or 1 3/4" Lengths.

Measurements:

Doorplates: Measures 3 1/8" wide by 17" tall; distance from the center of the doorknob receiver hole to the center of the round bit of keyhole is 2 1/4".

Doorknobs: 2" wide by 2 7/8" long. Projects 2 3/8".

Mortise lock: Lock body measurement is 5 1/2" tall x 3 5/8" deep; 13/16" thick. The faceplate measures 1" wide by 7 1/2" tall.

The backset is 2 1/2", including the thickness of the faceplate; the distance from the center of the bolt throw hole to the center of the door knob spindle hub is 2 3/8". Catch plate is 4 7/8" long by 1 7/8" wide. Mounting screws are included.