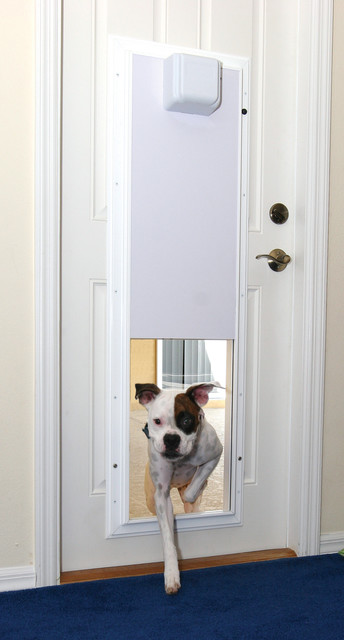 What Houzz contributors are saying:

Wireless for Easy AccessPet doors are common. They're also problematic. The most popular types are little more than heavy rubber flaps that dogs and cats can push forward with their heads, giving them access to the great outdoors and then back into the house. But such doors also allow other things into the house. For example, raccoons, deer, other people's pets, burglars and hot or cold air that reduces a home's insulation. A pet door is perfect for the application of wireless technology. The best kind use a unique microchip on your pet's collar. It's like E-ZPass access for authorized four-footed family members but a locked door for everyone else. These special collars are unique — like door keys. That means if your
neighbors
use the same exact brand of electronic door, their pets won't be allowed into your home, nor your pet into theirs. The collars don't use electricity, so they don't need batteries. And they're waterproof. One of the best doors of this type is the Plexidor Electronic Pet Door with One Touch Programming. The Plexidor has a sliding door that slides down to close and up to open. You can program how long the door stays open when it's activated. And it's strong enough to keep out burglars and sealed enough to keep out the elements.

There are pet doors that open via an E-ZPass-esque chip you can put in a collar. Learn about them and more of the latest in innovative pet technology. Full story: Home Tech: Pets Need Gadgets Too
What Houzzers are commenting on:
Electronic Pet Door With One-Touch Programming
Product Specifications
Sold By

Category