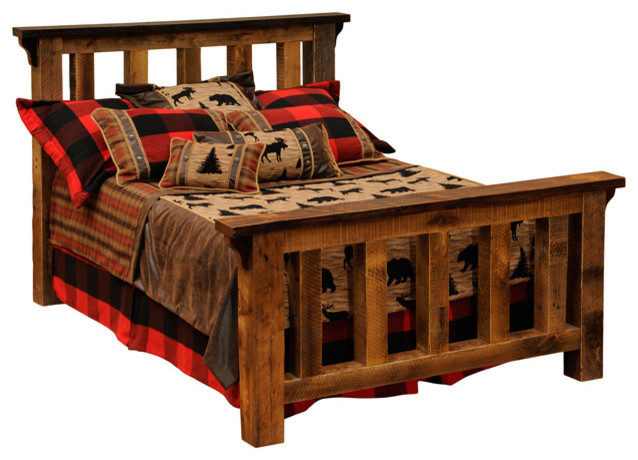 Barnwood Post Bed Reclaimed Rustic Wood, California King Size
Quantity:
Out of Stock
Free Shipping!
Only 3 Left!
A Barnwood Post Bed, california king size crafted with authentic reclaimed rustic wood will make an attractive addition to your rustic bedroom decor. Each of these aged wooded beds is carefully crafted with sturdy barnwood posts salvaged from buildings or barns built in the 1800s. Coated with a finish of clear catalyzed lacquer to help retain wood character, each bed also features full-length hard wood rails. The design features heavy vertical wooden posts or barnwood beams, flanked by two more beams, and capped with a barnwood shelf supported with aged wood corbels. Even heavier wooden posts form the legs of the bed. This beautiful reclaimed wood bed is constructed using old-world mortise and tenon building techniques. It is sturdy enough to withstand generations of use. For additional under-bed storage, consider adding an underbed dresser with drawers. Sturdy hardwood rails Made in USA Under-bed T-support is standard in King and Queen sizes Headboard: 60 inches high Footboard: 35 inches high Limited lifetime guarantee Choose from antique oak or vintage cedar finish stain colors Free curbside shipping in lower 48 states. This bed is extremely heavy. Consider available upgraded shipping options. Made-to-order; Allow 4-6 weeks for shipping Complete Standard Reclaimed Barnwood Post Bed Size Model Dimensions Weight Price King B10012 91Wx91Lx60H 570 2139.00 California King B10012-CK 85Wx96Lx60H 780 2399.00 Queen B10042 73Wx91Lx61H 520 1939.00 Full (Double) B10072 67Wx86Lx60H 460 1839.00 Twin (Single) B10102 52Wx86Lx60H 380 1649.00 Complete Platform Bed - (mattress rests on a raised barnwood platform - no footboard) Size Model Dimenisons Weight Price King B10010-PF 83Wx89Lx53H 570 2139.00 California King B10010-CK-PF 77Wx94Lx55H 770 2399.00 Queen B10040-PF 65Wx89Lx53H 690 2229.00 Full (Double) B10070-PF 59Wx84Lx53H 560 2129.00 Twin (Single) B10100-PF 44Wx84Lx53H 455 1959.00 Headboard Only (Includes Rails) Size Model Dimensions Weight Price King Headboard B10022 91"Wx60H 360 1179.00 California King Headboard B10022-CK 85"Wx60H 350 1179.00 Queen Headboard B10052 73"Wx60H 330 1059.00 Full (Double) Headboard B10082 67"Wx60"H 300 1019.00 Twin (Single) Headboard B10112 52Wx60H 260 909.00
Product Specifications
Manufactured By

Fireside Lodge

Sold By

Width

85.0"

Depth

96.0"

Height

60.0"

Size

California King Size

Materials

Reclaimed Red Oak Barnwood

Category

Style
Ready to ship to the Continental U.S. in 4 - 6 weeks.
Product Description
A Barnwood Post Bed, california king size crafted with authentic reclaimed rustic wood will make an attractive addition to your rustic bedroom decor. Each of these aged wooded beds is carefully crafted with sturdy barnwood posts salvaged from buildings or barns built in the 1800s. Coated with a finish of clear catalyzed lacquer to help retain wood character, each bed also features full-length hard wood rails. The design features heavy vertical wooden posts or barnwood beams, flanked by two more beams, and capped with a barnwood shelf supported with aged wood corbels. Even heavier wooden posts form the legs of the bed. This beautiful reclaimed wood bed is constructed using old-world mortise and tenon building techniques. It is sturdy enough to withstand generations of use. For additional under-bed storage, consider adding an underbed dresser with drawers. Sturdy hardwood rails Made in USA Under-bed T-support is standard in King and Queen sizes Headboard: 60 inches high Footboard: 35 inches high Limited lifetime guarantee Choose from antique oak or vintage cedar finish stain colors Free curbside shipping in lower 48 states. This bed is extremely heavy. Consider available upgraded shipping options. Made-to-order; Allow 4-6 weeks for shipping Complete Standard Reclaimed Barnwood Post Bed Size Model Dimensions Weight Price King B10012 91Wx91Lx60H 570 2139.00 California King B10012-CK 85Wx96Lx60H 780 2399.00 Queen B10042 73Wx91Lx61H 520 1939.00 Full (Double) B10072 67Wx86Lx60H 460 1839.00 Twin (Single) B10102 52Wx86Lx60H 380 1649.00 Complete Platform Bed - (mattress rests on a raised barnwood platform - no footboard) Size Model Dimenisons Weight Price King B10010-PF 83Wx89Lx53H 570 2139.00 California King B10010-CK-PF 77Wx94Lx55H 770 2399.00 Queen B10040-PF 65Wx89Lx53H 690 2229.00 Full (Double) B10070-PF 59Wx84Lx53H 560 2129.00 Twin (Single) B10100-PF 44Wx84Lx53H 455 1959.00 Headboard Only (Includes Rails) Size Model Dimensions Weight Price King Headboard B10022 91"Wx60H 360 1179.00 California King Headboard B10022-CK 85"Wx60H 350 1179.00 Queen Headboard B10052 73"Wx60H 330 1059.00 Full (Double) Headboard B10082 67"Wx60"H 300 1019.00 Twin (Single) Headboard B10112 52Wx60H 260 909.00
Need more info? Ask a question