GAUTIER UK
Furniture and Accessories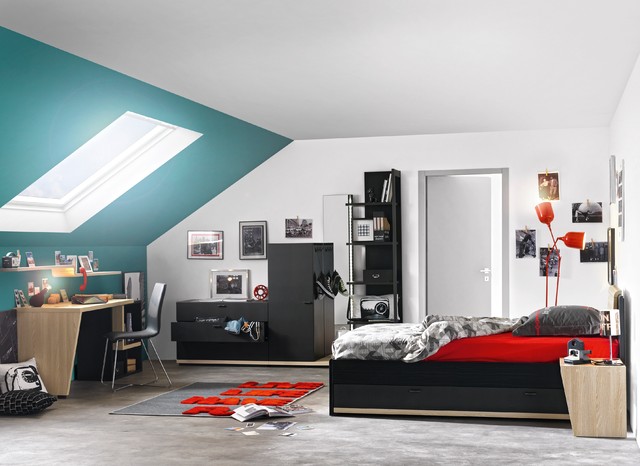 Children bedroom
URBAN: a collection that targets the 10-14 years and is intended for both girls and boys.
It carries an image, a TEEN state of mind which is reflected by a graphic and refined line, by a de-structured and lightness spirit, while offering storage solutions. A bedroom where TEENS search for neutrality and sobriety. They are sensitive to the trends of the decor (NY, London, LA) and the space is confined for themselves but open to friends and siblings. All the complements are equipped with mirrors in reply of the narcissism of the teens.
Urban display black finish, graphic chic, highlighted by a visual effect and drawing inspiration from the following codes:
- sweet chic female code
- art retro modern code
The graphic curved lines soft and bring fluidity and graphite lacquered finish recalls the asphalt effect (urban code, industrial). The wooden panel (natural tree) draws the linear side and the connection of the furniture and functions between them.
URBAN proposes teens to organize their bedroom in order to answer this need of comfort, storage and optimize at its best the space of their bedroom.
The bed is expandable and reflects the wish to abandon the single bed and access the dream of the double bed.
The headrest can be ajusted and allows you to sit comfortably to browse the internet or read.
The bedside shelf integrates the Bleutooth technology. It is concealed behind a 3D grey fabric. Speaker effect guaranteed to the like of the Bose speakers.
The bed is adorned with an under-drawer for storage, or for an additional bed.
The desk is associated with the square bookshelf. The various adjustments offers multi-faceted choices and allows to compose according to the need.

Urban has ways to seduce with storage open compartments for a lightness effect and to store books and decoration...or closed as a dressing room and hide secrets...of different heights combining functional and aesthetic design of the de-structured...
The wardrobe optimises the space by offering a 2 sliding doors version. To self-admire from all angles, a mirror is integrated on the door. An optimal storage space to store all clothing.
The wardrobe may be associated with the annexe storage compartments to create a true environment of storage.
Led lighting enhance the wardrobe and the mirror.
What Houzzers are commenting on: