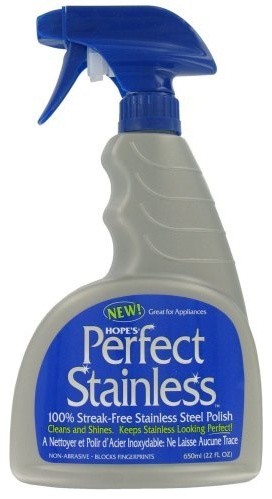 Perfect Steel Cleaner and Polish 22 Oz,
Taking care of your home appliances was never this easier! This Perfect Stainless polish cleaner from The Hope Company is an ideal choice for cleaning the surface of your refrigerators, ovens, cook-tops, dishwashers, sinks, grills, etc. Use this exclusive product to bring back the sheen on stainless objects. HOPE's Perfect Stainless Cleaner and Polish does not leave any streak on the surface and gives it a uniform shine altogether. You don't even need to rinse it off with water. Just apply, let it set for a moment, and rub smoothly with a clean and dry cloth.

Feature highlights:

Cleans a range of stuff – refrigerators, ovens, stove-tops, dishwashers, barbeque grills, etc.
Gentle to non-stainless parts, like plastic handles and trim, of the stainless steel object
Auto-polishing formula enables quick wipe
Non-abrasive and maintains original finish
Removes fingerprints for a uniform lustre
Does not include any harsh chemicals
Imparts a light and pleasant odor
Capacity: 22 Oz in a single bottle
Product Specifications
Manufactured By

The Hope Company

Sold By

Width

9.75"

Depth

5.0"

Height

2.6"

Category

Style
Ready to ship to the Continental U.S. in 1 - 3 days.
Product Description
Taking care of your home appliances was never this easier! This Perfect Stainless polish cleaner from The Hope Company is an ideal choice for cleaning the surface of your refrigerators, ovens, cook-tops, dishwashers, sinks, grills, etc. Use this exclusive product to bring back the sheen on stainless objects. HOPE's Perfect Stainless Cleaner and Polish does not leave any streak on the surface and gives it a uniform shine altogether. You don't even need to rinse it off with water. Just apply, let it set for a moment, and rub smoothly with a clean and dry cloth.

Feature highlights:

Cleans a range of stuff – refrigerators, ovens, stove-tops, dishwashers, barbeque grills, etc.
Gentle to non-stainless parts, like plastic handles and trim, of the stainless steel object
Auto-polishing formula enables quick wipe
Non-abrasive and maintains original finish
Removes fingerprints for a uniform lustre
Does not include any harsh chemicals
Imparts a light and pleasant odor
Capacity: 22 Oz in a single bottle
Need more info? Ask a question