Bud Dietrich, AIA
Architects & Building Designers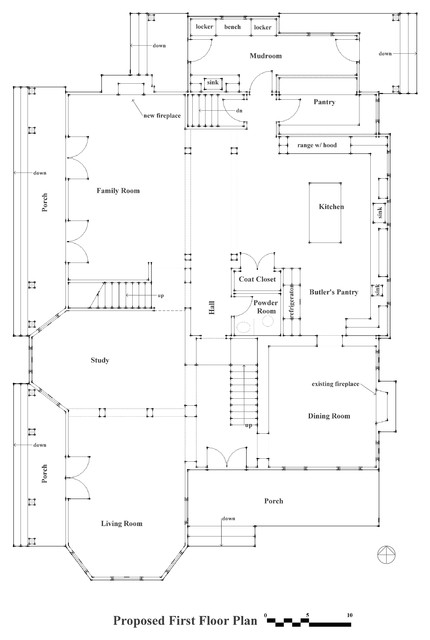 Architectural drawings
This photo has 3 questions
What Houzz contributors are saying:

The overall floor plan gives a flattened, two-dimensional bird's-eye view of a floor level in the house. (Click this one to see an enlarged version.) Each room is shown, as are all the walls, doors, windows, stairs, walls, cabinets, appliances, plumbing fixtures and furniture.The rooms are labeled so we know where each functional area is in relationship to another room. And we'll be able to see how we can get from room to room. Because windows and doors are shown, we can see how each relates to the others and to other items in a room. For example, we'll be able to see if doors and windows are aligned to create view corridors.I find that the best way to understand a plan is to put yourself in it and "walk" around the home. As you take this virtual walk, record what you see, what you feel and how you get from room to room. Another way to understand the plan is to virtually put yourself in the middle of a room and record what you see as you look in at least four directions.

18. How to Read a Floor PlanEver looked at an architect's or contractor's desk and seen nothing but a bunch of mumbo jumbo? This guide to reading floor plans could help you with your next remodel and make communication with your professionals go more smoothly.

The two most commonly used programs in the industry are AutoCAD and Vectorworks. Both are complicated to learn and come with a hefty price tag, but in the hands of an experienced professional they can help architects present homeowners with multiple and better design options, streamlining operations and shortening lead times.
What Houzzers are commenting on: