Sitescapes Landscape Architecture & Planning
Landscape Architects & Designers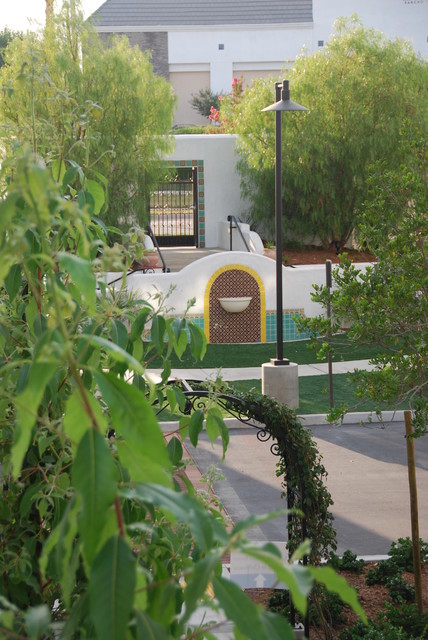 Santa Barbara at Rancho Cucamonga
Taking influence from early Santa Barbara, this community was designed to be a Spanish-style enclave.

The Site Plan is oriented around a center street/paseo named after State Street in Santa Barbara. This main spine is lushly landscaped with unique specimens and has strong pedestrian elements, including benches and vine-covered arbors throughout. At the terminus of both ends of State Street lie two parks designed to resemble the essence of their namesakes in Santa Barbara.

Alice Keck Park is a whimsical, playful area with a serpentine seatwall wrapping around a tot-lot and separate seating areas. Decorative tile, colorful play equipment, fossil imprints in the patio all under a large red umbrella helps create this unique space. The other park at the opposing end is the Montecito garden. This space has a grand fireplace with a Moorish inspired iron shade structure with retractable canvas. The patio space includes an outdoor kitchen, making it ideal for al fresco dining. An enclosed working garden is also integrated into the park. Large heritage trees are planted throughout to provide the established estate look that is so typical of Montecito.

Santa Barbara's building layout was established to create separate, more intimate courtyards as offshoots from the main State Street spine. These courtyards were all designed to be unique oases with dramatically different planting concepts to create equally diverse moods and appeal such as: sage garden, azalea garden, palm garden, succulent garden, fern garden, touch garden, edible garden, scented garden and a moon garden.