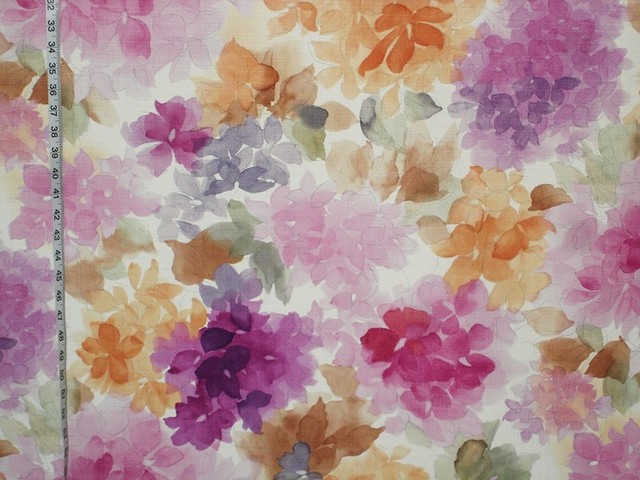 What Houzz contributors are saying:

This dreamy fabric has a lovely purple and gold color scheme and a water-washed feeling.
What Houzzers are commenting on:
Watercolor Fabric, Floral Purple and Orange, Standard Cut
5.0 Average Rating |

1 Review
A watercolor fabric. A watercolor fabric in shades of purple with the surprise of orange. Once in a while a pattern comes in and we all stand back and say "Wow"! This is one of those patterns! It is absolutely glorious. The photographs do not do it justice.



A stunning watercolor design, it reminds one of a flower market, or for those old enough, the opening shot in the movie "My Fair Lady".



Colors fill this fabric. They move and flow. There are tones of purple, plum, and violet are set off by terracotta, buff orange, and peach. Mineral green, brown, and charcoal give an ashy look to some colors. As in a true watercolor, there are many different hues and color saturations. Seen through the colors are pencil like drawings of flowers and leaves, done in grey. The effect is of a winter garden, at twilight.



This fabric is 57 1/4" wide. The golden orange flower is about 3 1/2" ( 8.89 cm. ) across. This is a mid-weight home decorating fabric. It has a deep cottony feel. It has been woven with a basket weave, and has nice drape, and a soft hand. This is perfect for curtains, cushions, upholstery, bed-spreads, etc.



This is for a yard ( 36" ) cut.



Sold by: the yard ( 36" )



Scale of item: The golden orange flower is about 3 1/2" ( 8.89 cm. ) across.



Selvedge to selvedge: 57 1/4"



This is: 100% cotton



This fabric feels: soft,
Product Specifications
Sold By

Width

57.25"

Depth

36.0"

Height

1.0"

Category

Style
Ready to ship to the Continental U.S. in 1 - 3 days.
Product Description
A watercolor fabric. A watercolor fabric in shades of purple with the surprise of orange. Once in a while a pattern comes in and we all stand back and say "Wow"! This is one of those patterns! It is absolutely glorious. The photographs do not do it justice.



A stunning watercolor design, it reminds one of a flower market, or for those old enough, the opening shot in the movie "My Fair Lady".



Colors fill this fabric. They move and flow. There are tones of purple, plum, and violet are set off by terracotta, buff orange, and peach. Mineral green, brown, and charcoal give an ashy look to some colors. As in a true watercolor, there are many different hues and color saturations. Seen through the colors are pencil like drawings of flowers and leaves, done in grey. The effect is of a winter garden, at twilight.



This fabric is 57 1/4" wide. The golden orange flower is about 3 1/2" ( 8.89 cm. ) across. This is a mid-weight home decorating fabric. It has a deep cottony feel. It has been woven with a basket weave, and has nice drape, and a soft hand. This is perfect for curtains, cushions, upholstery, bed-spreads, etc.



This is for a yard ( 36" ) cut.



Sold by: the yard ( 36" )



Scale of item: The golden orange flower is about 3 1/2" ( 8.89 cm. ) across.



Selvedge to selvedge: 57 1/4"



This is: 100% cotton



This fabric feels: soft,
Need more info? Ask a question