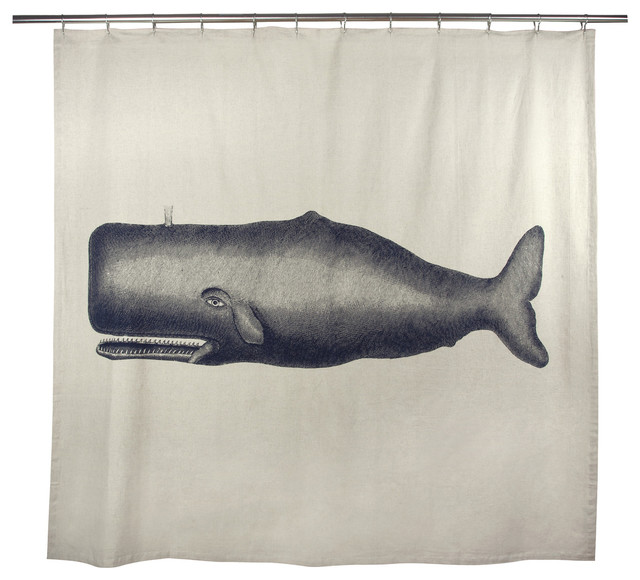 What Houzzers are commenting on:
Moby Whale Shower Curtain
Quantity:
Sold Out
Free Shipping!
Only 1 Left!
The hand sewn Thomas Paul Moby Whale shower curtain features a hand screened print on 100% flax. The shower curtain features one of our favorite themes: nautical imagery. The design features an Moby the Whale peacefully swimming along. The curtain measures 72" x 72". The print adds a nautical accent to your bathroom. About the Artist: After graduating from NYC's famed FIT, Thomas Paul started his career as a colorist and designer at a silk mill. Eventually, he leveraged his knowledge of silk materials & print to launch a neckwear line of his own. Over time, Paul loved the idea of applying menswear print and design into a collection of home decor, which is what we see in his goods today. His background has embedded in him a passion for quality production techniques. Even as his brand grows, he continues to ensure all of his prints are hand screened - a slow, detailed process that results in each piece being a unique piece of artwork. Paul also pushes the envelope in terms of bold prints and hand ground materials. "My vision for the thomaspaul brand has always been about combining classic design motifs from different periods in textile design. Incorporating anything from an 18th century Damask pattern to a camouflage print. The unifying thread between so many different styles is to change the designs so they are updated for today. For me this means changing the scale, so they are always bold, and reducing down the colors and details, so most designs are reduced to two or three colors and become very flat, bold prints. I am always looking to vintage fabrics and motifs for inspiration and new ideas, but always try to update these to look good for today." - Thomas Paul Product Details:
The print features Moby the Whale
100% flax
Measures 72" x 72"
Has a 2 inch bottom hem and standard loop holes
Product Specifications
Manufactured By

Thomas Paul

Sold By

Designer

Thomas Paul

Category
Ready to ship to the Continental U.S. in 5 - 14 days.
Product Description
The hand sewn Thomas Paul Moby Whale shower curtain features a hand screened print on 100% flax. The shower curtain features one of our favorite themes: nautical imagery. The design features an Moby the Whale peacefully swimming along. The curtain measures 72" x 72". The print adds a nautical accent to your bathroom. About the Artist: After graduating from NYC's famed FIT, Thomas Paul started his career as a colorist and designer at a silk mill. Eventually, he leveraged his knowledge of silk materials & print to launch a neckwear line of his own. Over time, Paul loved the idea of applying menswear print and design into a collection of home decor, which is what we see in his goods today. His background has embedded in him a passion for quality production techniques. Even as his brand grows, he continues to ensure all of his prints are hand screened - a slow, detailed process that results in each piece being a unique piece of artwork. Paul also pushes the envelope in terms of bold prints and hand ground materials. "My vision for the thomaspaul brand has always been about combining classic design motifs from different periods in textile design. Incorporating anything from an 18th century Damask pattern to a camouflage print. The unifying thread between so many different styles is to change the designs so they are updated for today. For me this means changing the scale, so they are always bold, and reducing down the colors and details, so most designs are reduced to two or three colors and become very flat, bold prints. I am always looking to vintage fabrics and motifs for inspiration and new ideas, but always try to update these to look good for today." - Thomas Paul Product Details:
The print features Moby the Whale
100% flax
Measures 72" x 72"
Has a 2 inch bottom hem and standard loop holes
Need more info? Ask a question