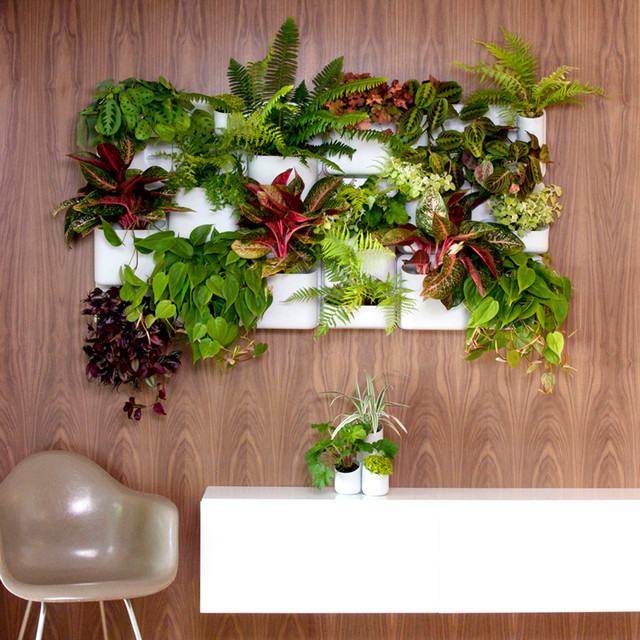 What Houzzers are commenting on:
Urbio Modular Garden and Wall Organizer
Ah, Kickstarter - where would the world be without this incubator of promising design concepts? Okay, so civilization survived a few millennia before it showed up, but still! It's thanks to them that we now have Urbio, a magnetically modular urban garden that works equally well as a wall-mounted organizer. Simply attach the backplates to your wall in whatever arrangement works best for you, then place your collection of containers anywhere on the grid. Don't worry - powerful neodymium magnets will hold them in place. At least, until you pop them off for watering, cleaning or because you want to change their placement.
Urbio comes in two kit sizes. The Big Happy Family Kit includes 6 10-inch square wall plates and 6 containers. As a rectangle it measures 20 by 30 inches (50.1 x 76.2 cm), but you can position the backplates in any pattern. The Happy Family Kit comes with 2 plates and 3 containers, and measures 10 by 20 inches (25.4 x 50.1 cm). Both kits comes with all the
brackets
, screws and sheetrock anchors you'll need, and a handy-dandy template for easily mounting the plates. Kits can be combined as needed, of course.
Great for kitchen and bath, office, living areas, garage - pretty much anywhere you go, now that we think of it. Made of
lightweight
, recyclable and durable polypropylene. Designed by Beau Oyler, Jared Aller and the Enlisted Design team.