Modern Country Lady
Interior Designers & Decorators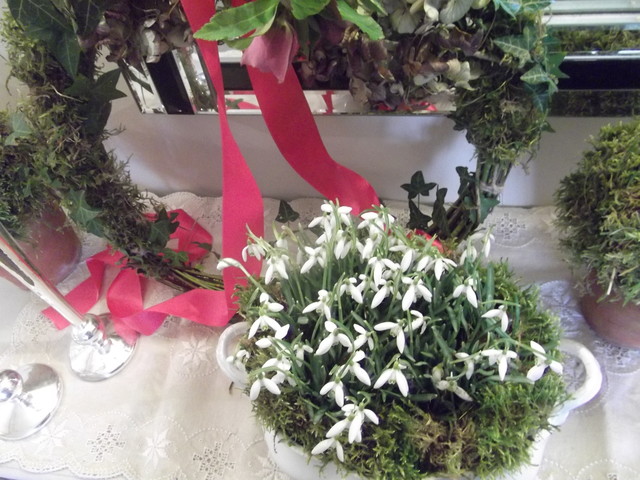 Entrance hall Spring display
A simple bowl of spring bulbs, if necessary dug straight out of the garden, and once bloomed and faded, put back in the soil, can give an entrance hall a lovely welcoming and cheerful Spring feel.
What Houzz contributors are saying:

10. Blooms. Add a few winter blooming bulbs to your garden. There is nothing quite like a tiny little bloom popping up from amidst the drifts of snow. Great choices for early bloomers include chionodoxa (glory-of-the-snow), snowdrops (pictured),
hellebores
and the familiar crocus.

SnowdropGalanthusOne of the earliest harbingers of spring, the delicate-looking snowdrop is tough enough to poke through snow in Northern gardens and to bloom through winter in the South. Snowdrop makes a graceful addition to meadows, beds and borders. If you have snowdrop blooms to spare in spring, consider digging up the flowering bulbs with soil intact to transfer to an indoor container. (The flowers likely won't last as long as they would outdoors, but you will get to enjoy them frequently.)Favorite varieties include the reliable Galanthus nivalis that spreads slowly and the bigger-flowered 'Sam Arnott' with heart-shaped green markings. USDA zones: 3 to 9 Sun requirement: Full sun to full shade, depending on varietyHeight: 5 to 12 inchesBloom time: February and MarchPlanting tips: Bulbs are fragile, so plant as soon as possible.

Snowflake(Leucojum)USDA zones: 4 to 8Bloom period: Winter to midspringHeight: 12 to 18 inchesHow to plant: 3 to 4 inches deep and 4 inches apartLight requirement: Full sun when in bloom;
light shade
or filtered sun during hot summersWater requirement: Regular water from planting until the foliage dies back; periodic moisture during summerThis lily-of-the-valley-like plant, often mistaken for Galanthus, is an easy-to-grow bulb that's perfect for naturalizing and filling in small spaces. The mistakenly named Summer Snowflake (L. aestivum) begins flowering in late November in milder parts of the west and midspring in other climates. It's characterized by long leaves and flower stems with three to five small, white bell-like blooms. Spring Snowflake (L. vernum) blooms in midwinter to early spring with just one blossom per stem. It needs cold winters to do well. Both species should be planted in fall.
What Houzzers are commenting on: