'g' Green Design Center
Interior Designers & Decorators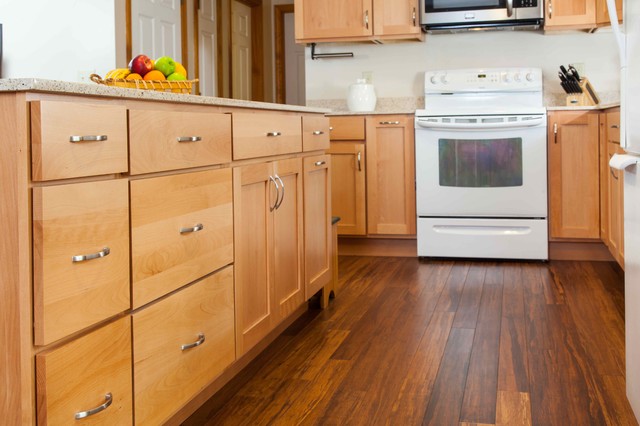 Cape Home Addition - Expanding Home and Lifestyle
Green Home Remodel – Clean and Green on a Budget – with Flair
Today many families with young children put health and safety first among their priorities for their homes. Young families are often on a budget as well, and need to save in important areas such as energy costs by creating more efficient homes. In this major kitchen remodel and addition project, environmentally sustainable solutions were on top of the wish list producing a wonderfully remodeled home that is clean and green, coming in on time and on budget.
'g' Green Design Center was the first and only stop when the homeowners of this mid-sized Cape-style home were looking for assistance. They had a rough idea of the layout they were hoping to create and came to 'g' for design and materials. Nicole Goldman, of 'g' did the space planning and kitchen design, and worked with Greg Delory of Greg DeLory Home Design for the
exterior architectural design
and structural design components. All the finishes were selected with 'g' and the homeowners. All are sustainable, non-toxic and in the case of the insulation, extremely energy efficient.
Beginning in the kitchen, the separating wall between the old kitchen and hallway was removed, creating a large open living space for the family. The existing oak cabinetry was removed and new, plywood and solid wood cabinetry from Canyon Creek, with no-added urea formaldehyde (NAUF) in the glues or finishes was installed. Existing
strand woven bamboo
which had been recently installed in the adjacent living room, was extended into the new kitchen space, and the new addition that was designed to hold a new dining room, mudroom, and covered porch entry. The same wood was installed in the master bedroom upstairs, creating consistency throughout the home and bringing a serene look throughout.
The kitchen cabinetry is in an Alder wood with a
natural finish
. The countertops are Eco By Cosentino; A Cradle to Cradle manufactured materials of recycled (75%) glass, with natural stone, quartz, resin and pigments, that is a maintenance-free durable product with inherent anti-bacterial qualities.
In the first floor bathroom, all recycled-content tiling was utilized from the
shower surround
, to the flooring, and the same eco-friendly cabinetry and counter surfaces were installed. The similarity of materials from one room creates a cohesive look to the home, and aided in budgetary and scheduling issues throughout the project.
Throughout the project UltraTouch insulation was installed following an initial energy audit that availed the homeowners of about $1,500 in rebate funds to implement energy improvements. Whenever 'g' Green
Design Center
begins a project such as a remodel or addition, the first step is to understand the energy situation in the home and integrate the recommended improvements into the project as a whole.
Also used throughout were the AFM Safecoat Zero VOC paints which have no fumes, or off gassing and allowed the family to remain in the home during construction and painting without concern for exposure to fumes.
Dan Cutrona Photography
What Houzzers are commenting on: