EnvironmentalLights.com
Lighting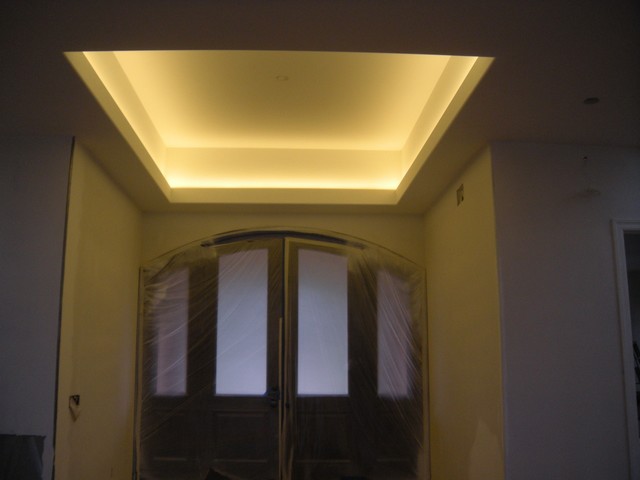 Rancho Santa Fe Home Remodel with Coved Ceiling LED Lighting
The style of a ceiling is more than structural. Ceilings are as integral to conveying interior design as the walls, flooring and furniture in a room. There are a surprising number of ceiling styles common in homes today – from a smooth, curving cove ceiling to dramatic and decorative ceilings that really grab your attention.

Pictured here is a tray ceiling, which has is flat with a rectangular center that is either "popped out" or inverted to add architectural interest. LED strip lighting is used as recessed lighting to enhance this design style. Tray ceilings are often seen in kitchens and dining rooms. Because of the two levels of ceiling height, tray ceilings can make a small room look taller.

LED strip lighting is dimmable, flexible and sold in reels allowing you to do large installations easily. Strip lighting is also available in a variety of color temperatures such as very warm white (2,400°K), warm white (2,700°K) as shown int he picture, neutral white LED (4,000°K), daylight white LED (6,500°K) and color tunable LED strip (adjust the color temperature of your choice between 2,400-6,500°K with our color tunable remote control.)

If you need technical advice or easy-to-understand documentation, give EnvironmentalLights.com a call at (888) 880-1880.
What Houzzers are commenting on: