Erdy McHenry Architecture, LLC
Architects & Building Designers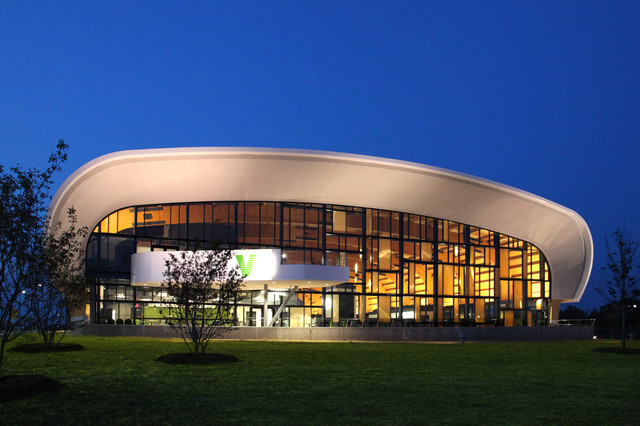 Vertical Screen
The building employs a great deal of technology and is designed to provide an extremely healthy work environment while also being highly energy-efficient. The new headquarters was awarded LEED Platinum Certification from the U.S. Green Building Council in November 2011, the highest sustainability designation granted by the USGBC. Vertical Screen's LEED Platinum score of 58 points makes the building the greenest in the Commonwealth of Pennsylvania, and ties it for the seventh-highest LEED score for a newly constructed office building in the United States. It is also ranks as the ninth highest in the world.
In conjunction with the radiant slab heating system, the interior space is conditioned by a series of "eco pods" that contain air handlers that utilize ground-source heat pumps. The pods are both an ecological and social focus points because they comprise the primary cooling systems while providing socially important team conference spaces. A closed-loop, geothermal water source heat pump includes approximately 65 closed-loop wells installed at a 500 ft. depth in order to utilize the earth's mean temperature—utilized to heat and cool the building.
Live plants grow on top to provide oxygen and decor. They are watered with the rainwater collection system when available. This harvesting system collects rainwater from 60% of the roof and stores it in a 50,000 gallon underground tank. The water is used to flush low-
flow toilet
fixtures and water faucets as well as to irrigate interior green walls and onsite landscaping.
Located on the roof, 900 solar panels generate 164 kilowatts to provide 20% of the building's energy requirements. A cylindrical solar panel design captures both direct sunlight from above and reflected sunlight from a white "cool" rooftop. The unique shape of the panels allows wind to naturally flow through the spaces between the panel cylinders. In addition to increasing the efficiency of the system by keeping it cooler, the reflective white roof also contributes to energy savings by providing a more efficient building envelope that reduces the building's air conditioning load.
What Houzzers are commenting on:

360 Chestnut
added this to
LEED Homes
January 28, 2013
An LEED platinum certified office building, super cool.