CG&S Design-Build
Design-Build Firms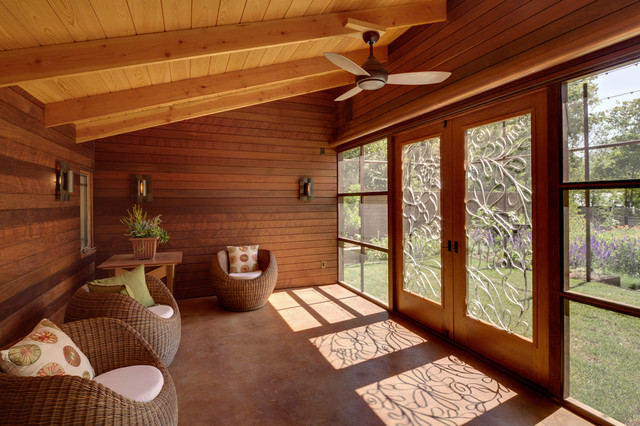 Central City Oasis
This project will also be featured on the 2011 Outdoor Living Tour, May 21st. Tickets and info may be found here:
http://outdoorlivingtouraustin.com/
The owners of this central city project originally parked on a concrete pad and entered their home through a gate and small entry courtyard. They wanted to enlarge the courtyard and add a carport for security, all while adding to the home's curb appeal. Avid birdwatchers and gardeners, they also wanted to add a screened porch on the back of the home, adjacent to their extensive naturalized gardens and sculptural fountain.
The original entry courtyard walls were removed: one was rebuilt at the property line to enlarge the space, while another was replaced by the walls of the new Ipe-clad carport. From the driveway, the carport is entered through a metal-clad sectional garage door (for security). Pedestrian access from the carport to the entry courtyard is through a metal-clad rolling barn door. The street side of the courtyard is enclosed by an Ipe fence. Its basket weave steel gate (with doorbell and intercom) provides privacy and security, and is complemented by the decorative copper light fixtures and copper downspouts on the carport.
At the street, Ipe fence panels and entry arbor add to the curb appeal and provide support for climbing plants. The new front yard features a native buffalo grass lawn and new low water plantings.
On the back of the home, new screened porches were added to extend living and dining outdoors for all four seasons. These new spaces are designed to maximize the views of the garden and birds in flight. A 3-panel folding 'Nana' window opens the kitchen to the additions and the natural light and views of the yard, while facilitating pass-through access to the dining area. Interior details include decorative sconces, copper gutter cove lighting, an integrated sound system and custom-designed end tables. Cypress ceilings add a lighter color and touch with a natural flavor and contrast with the stained concrete floor. Exterior details include copper rain chains and steel planter boxes. Outside the porches, drill stem pipes and a lawn define another outdoor room that is open to the sky; the pipes support LED twinkle lights that further define the room and animate it after dark.
Expert craftsmanship is seen in the use of wood throughout the project. A dense wood, Ipe was chosen for its warmth and durability, and was used both as siding and decorative trim for the interior and exterior wall surfaces. The porch wall screens were built with aluminum frames and are removable for ease of cleaning. Custom designed screen doors with flower motifs complete the project.
The end result of the design is a series of outdoor spaces that facilitate connection with nature. The owners have already seeded the garden for a bounty of spring
wildflowers
and are planning to install a small orchard. Central city living at its best!
Architect: Gregory Thomas AIA
Project Manager: Jim Venable
Photography by Jonathan Jackson, 2011
What Houzzers are commenting on: