Alison Hodgson
Media and Bloggers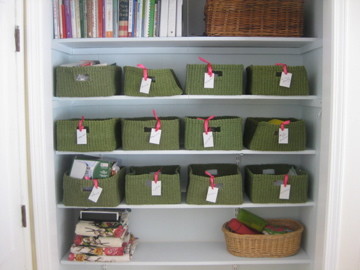 Files for a Piler
What Houzz contributors are saying:

This is what I came up with. In the corner of our living room we had an underused closet. We removed the doors and installed wood shelves, which I painted the lightest robin's egg blue. I wanted it to be pleasing, since it would be in constant view. I found these pretty
green baskets
. They weren't exactly what I wanted, but too often I'll put something off while I try to find the perfect and most economical option. This time I was happy with good enough. I knew there were cuter ways to label the baskets, but again I didn't want to allow the vision of perfection to keep me from something that worked. In this case that was plain 3-by-5 cards, which I cut down, labeled appropriately, punched a hole in and tied to the baskets with leftover ribbon from Christmas.How My Piling System WorkedEach of my children, my husband (Paul) and the dog had a basket. My younger daughter had two, because she was enrolled in a Mandarin immersion program half the day and a Western classroom the other half. It was easier to keep the papers separate. There was a basket for receipts, which were for tax purposes or items I might have needed to return. There was a basket for manuals: large and small appliances, as well as major home systems, like our furnace, air conditioner and water heater. I had a basket I broadly named "Writing," because I was working on a book and beginning to freelance. It held notes, receipts and articles I wanted for research. There were several other baskets, with more planned, but I can't remember the categories. We still had a filing cabinet for long-term records and Paul's business, but this was for me and — miracle of miracles — it worked until our house burned down. In our new home, I have a modified system of the baskets and a filing cabinet that I am actually capable of using. Now I have baskets for each of the kids and my husband, as well as one each for my writing, receipts, manuals and the dogs. I'm going to sort through the dogs' basket. Because their records are generated only once a year, I know I can handle filing them in the filing cabinet.

Label it. You don't have to have an old-school label maker; a bit of ribbon and simple tags from the office supply store can help you keep track of where everything is.

This was the system I had for papers at our old house, because I couldn't handle a
filing
cabinet. Each of my kids had a basket, and I had one too. Papers I needed to read or sign went in mine, and school papers we needed to hold on to went in theirs. To the left was our tiny mudroom. To the right, just around the corner, I had a monthly and weekly calendar on the wall. There were three separate spaces, but this worked beautifully for us.
What Houzzers are commenting on: