American Red Cross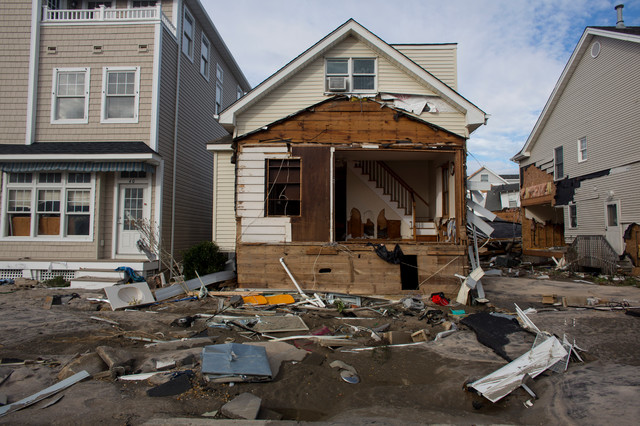 Hurricane Sandy 2012
Entire neighborhoods have been rearranged by hurricane-force winds and waves. One-story bungalows, lifted off their sand foundations, came to rest a full block from where they were built, while more recent two-and three-story homes are now see-through structures, their contents ñ furniture, appliances, even wallboard and flooring ñ hauntingly absent. Photo by Les Stone/American Red Cross
What Houzz contributors are saying:

Inspect for and document the damage. Using photos and video, document the extent of the damage to your home, property and neighborhood. Camera in hand, walk around your home, both inside and out, to record the damage. While photos are great, a narrated video is better.As you walk around, you'll be looking for both obvious and not-so-obvious signs of damage (waterlogged carpeting, furniture that's been tossed about). Things like cracks in basement floor slabs and foundation walls are signs of possible structural issues and should be addressed quickly.Conduct the inspection with an expert. Your insurance provider will probably make an expert available to you, or you can certainly call in an architect or engineer that specializes evaluating properties after natural disasters. Have the expert look for damaged and wet drywall, wood, siding, roofing and so on. Document the damage. Pay particular attention to the structural components (foundation, concrete slabs, framing). Also carefully inspect for potential problems (places for future mold growth, roof damage, leaks).

Get a professional to assess the damage. A surface in your home may feel dry to the touch but still have dampness underneath that could lead to mold. Professionals, specifically flood and mold restoration specialists, use moisture meters to detect this. "Not everyone can afford to hire a certified restoration professional, so they turn to somebody they trust and know, like their contractor," says Chris Taylor, the IICRC's vice chair of restoration standards. "But keep in mind that licensed contractors are trained only to design and build and tear down if need be; they don't have the expertise when it comes to a structure's microbial level — and structures need to be sound on a microbial level before you can even think about rebuilding."Belk is based in San Diego but has already been contacted by a New Jersey homeowner and her contractor, as flooding restoration professionals in the hurricane zone area are neck deep in assessments. "We talked about how to dry everything that was water damaged," he says. "We frequently advise, work with and rent out our high-efficiency fans and dehumidifiers to contractors."Remove all water-contaminated items. Drywall, insulation, carpeting, wood flooring, cabinetry — any wet item has to be removed. "If only a few things got wet and you're doing things yourself without a professional, then you can salvage something like furniture, but I wouldn't recommend it," says Belk. "If it got wet, it's been contaminated with floodwater coming from the Hudson — and who knows what else it's brought with it."Taylor says seeing homeowners on TV going into houses with water up to their knees terrifies him. "You can get hepatitis, tetanus, E. coli from floodwater," he says. "If you really must go into floodwater, wear protective gear from head to toe: nonpierceable gloves, masks, goggles, overalls. Make sure that you don't have any cuts or open wounds, and take a shower immediately after." Dry, dry, dry. After contaminated objects and structural and building materials have been removed by licensed professionals, it's time to introduce drying equipment such as high-powered fans and dehumidifiers. "Insurance companies will also want HEPA [High-Efficiency Particulate Air] filters there for mold remediation," Belk says. "The drying and air-filtering equipment should be on until the moisture content of the remaining material — the framing, the subfloors, whatever is left — comes below the dry standard." A home's dry standard differs per city and state. Most coastal homes already have a relatively high moisture content, but you generally want to have less than 16 percent moisture content in your home, Belk says.
What Houzzers are commenting on: