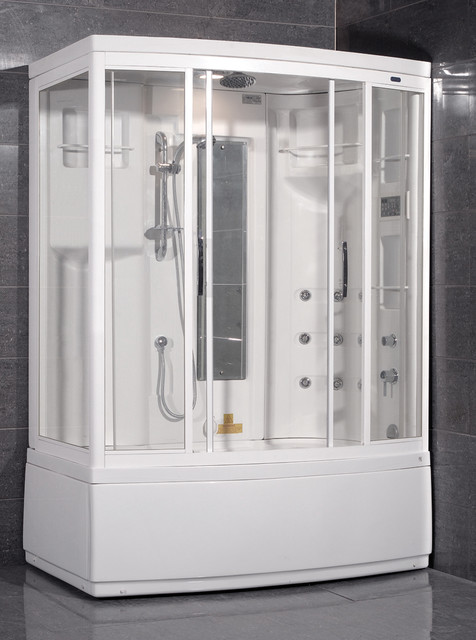 This photo has one question
What Houzzers are commenting on:
AmeriSteam ZAA208 Steam Shower Unit with Whirlpool Bathtub
The Ariel AmeriSteam ZAA208 Steam
Shower
and Whirlpool Bathtub combo is available for $3790.00 at
SteamShowersInc.com
and
BathroomEtc.com
. Shipping is always free! SAVE 10% off, with coupon code
SSIHZ10
at
SteamShowersInc.com
and with coupon code:
BREHZ10
on
BathroomEtc.com
or Call 1-800-304-3598 to place your order today.
Enjoy the pleasures of the AmeriSteam ZAA208 steam shower in your own home. These units are fully loaded steam shower enclosures, with a built in steam generator, water pump, radio/CD ready, and much much more for your therapeutic experience. We are confident that you will indulge in a state of complete relaxation and tranquility with all the features of this steam
bath enclosure
. Look below for all the features and detailed specifications of this steam shower. The new AmeriSteam steam showers are finally being introduced to the US market. These are the ONLY steam showers to be manufactured with USA components. The complete unit is made from US Lucite, which is one of the world's best-known contemporary material brands.
The
outstanding
features offered by Lucite products for baths and spas include lasting color, superb surface finish and texture, exceptional strength and durability, biocidal action, design freedom and its warmth to the touch. These features, combined with a continuous program of innovation, close relationships with customers and a focus on service and delivery has meant that Lucite is the preferred brand for many of the world's most prestigious bath, spa and shower brands such as Kohler, Villeroy & Boch, Sanitec, Ideal Standard and Jacuzzi.
The Lucite acrylic backed by fiberglass is 6mm thick, which means it is one of the most solid units in the market.
This is the first steam shower with full acrylic panels instead of the typical pvc.
A steam shower is health giving as well as enjoyable. As a supportive activity, a steam bath is especially recommended to alleviate the conditions listed below by virtue of its high steam content and the general benefits of moist heat. In addition, again as a supportive measure the steam bath is beneficial for persons suffering from: Sleeping disorders, particularly through over excitability, poor skin circulation, dry, chapped skin, muscular tension, muscular weakness in the subcutaneous blood vessels, and sensitivity to sudden changes of temperature. A great advantage of the steam bath lies in its highly beneficial effect on the skin, a feature particularly appreciated by women. The moist heat stimulates the subcutaneous blood flow and cleanses the skin intensively, opening the pores, releasing toxins, removing dead skin and impurities and leaving the skin feeling soft, clean and silky smooth.
The high-speed and high-efficiency steam engine can produce high temperature steam in a short time and this helps you expedite your blood circulation. It keeps your whole body relaxed, releases stress, clears sinuses, eliminates fatigue and resumes physical strength. It has a curative effect on rheumatism, rheumatic arthritis, back pain, asthma, bronchitis, neurasthenic and is an effective way to reduce weight. You can maintain a suitable temperature and time according to your needs using the innovative computerized LCD control panel.
Product Features
◙ Standard 110V
◙ Acupuncture Massage (15 Jets) - Specially designed with spray nozzle and strategically based on the human
skeleton
, channels and subsidiary channels, acupuncture point and tendon, your whole body can take a hydraulic massage using this feature. It will promote your body circulation, invigorate your body cells, self adjust your brain, clear up tiredness and prevents chronic disease. Sit back against the hydro massage jets and have an acupuncture massage for your back muscles to relieve pain. There are a total of 9 jets so you sit back and have a relaxing massage.
◙ Whirlpool Jets (9 Jets)
◙ Rainfall Ceiling Shower & Roof Light - Oversize shower head is with roof light to give you an exceptional rainfall shower experience.
◙ Handheld Adjustable Showerhead - Functional handheld showerhead devices allow you to take a shower the old fashion way.
◙ High Quality Speaker System - FM Transmitter - Excellent quality Speakers.
◙ Thermostatic Faucet - Displays how warm your water is with this thermostat.
◙ Temperature Sensor - The temperature sensor will find out the current temperature in the steam shower.
◙ Ventilation Fan - Keeps the heat level and fresh air at your own personal level. If it gets too hot and you need fresh air, push this button.
◙ Built-In Seating Area - Built-In seating area in front of the acupuncture massage jets which will help you relieve pain while massaging your back muscles.
◙ Storage Shelves
◙ 5mm Tempered Glass
Technical Parameters
◙ Rated Voltage: 110V, 60Hz
◙ Rate Current: 30 AMPS
◙ Steam Generator: 3000W
◙ Hydraulic Pressure: 0.1~0.2mpa
◙ Piping Size: 1/2
Product Specifications
Sold By

Category

Style