Gast Architects
Architects & Building Designers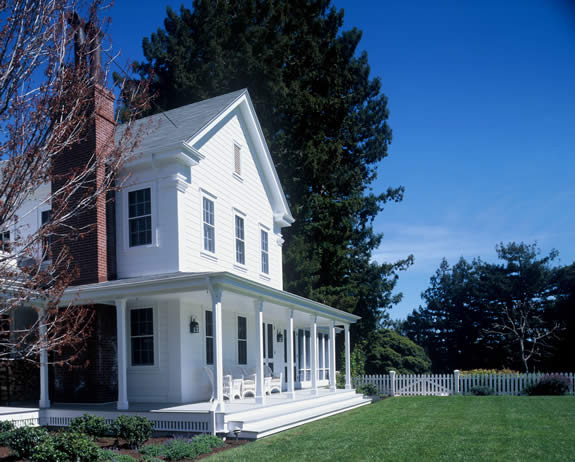 Walnut Hill Ranch
This photo has 2 questions
What Houzz contributors are saying:

Crisp white house, long covered porch,
white picket
fence and a neatly trimmed lawn. Idyllic.

One walk I noticed a variety of pots gathered on the side porch. I couldn't see everything, but things did not look good. Another walk they were lined up against the fence: several ornamental grasses, some tiny arborvitae and some small shrubs that looked like burning bush. The fence was a scar on that lovely lawn, and I thought there was only room for improvement, but I thought wrong. The grasses and shrubs were planted tightly together, two by two, and instead of softening, they highlighted the disfigurement; one's eye was drawn inexorably to it.Well, mine was.I don't know when it occurred to me I might have a problem — definitely far too long. My husband, Paul, walked with me a good bit and had been privy to my whispered criticisms. The year before, I had given up random and spoken negativity ("Did you see the color of that house? What were they thinking!"), but I made an exception for this special and dire case, and Paul wisely let me be. I think he knew I was working out some of the pain that remained from having our home set on fire, as well as the overwhelming anxiety from building a new house under great duress. I believed I'd spent too much money and made so many mistakes. If only we had been able to buy this house outright, I would have maintained it properly. I finely began to hear my ugly criticisms and, at the same time, began to remember all the mistakes I made when I was learning to garden. And honestly, I'm still learning; I'll always be making new mistakes. Here's the thing: The house is still beautiful and — oh — it's not mine.I stopped my commentary. For several weeks I didn't say anything at all, and then one day as we were passing, something occurred to me. I told Paul, "No matter how hard we tried, we never would have kept it as meticulously as the previous owners. I guess it's a relief to not be the ones 'letting it go.'" That it was being let go at all could be debated, but Paul and I both knew I had turned a corner.
What Houzzers are commenting on: