Daniel Nolan for Flora Grubb Gardens
Landscape Architects & Landscape Designers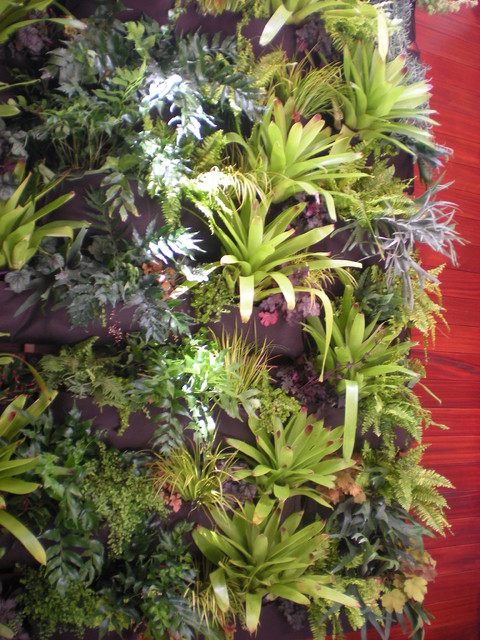 Residential Vertical Garden
This photo has one question
What Houzz contributors are saying:

A closeup view of an installation similar to the previous one shows the variety of plants. The colors, the leaf shapes, and the leaf sizes give the wall its character.

Botanical names: There are at least 50 genera in the bromeliad family, with at least 3,000 species and 6,000 cultivars. The most popular genera are listed here. Common names: Bromeliad, vase plant, foolproof plant, queen's tears, air plant and more Where it will grow: Hardy to 15 degrees Fahrenheit, depending on species (USDA zones 8b to 11, depending on the species; find your zone)Moisture requirement: Most bromeliads don't require much water, especially those with leathery and spiky leaves. Fill the "vases" of tank-type bromeliads (most are tank types and have watertight leaves) when they dry out. Tillandsias, which are in the bromeliad family, may need occasional misting in drier climates.Light requirement: Varies. Generally speaking, plants with leathery or spiky leaves handle the sun better. Many can be grown in different lighting situations; shade-grown plants take on greener colors and arching forms, and sun-grown specimens form tight and colorful rosettes. Mature size: Varies, depending on the cultivar. The "hanging mosses" of the South are actually clumps of tiny air plants, while the enormous Puya raimondii can reach over 30 feet tall.Seasonal interest: Varies; most have attractive foliage year-round When to plant: Year-round where hardy Feeding: Feed bromeliads with a diluted orchid fertilizer or slow-release fertilizer. Highly colored and mottled specimens look best when fertilized sparingly.
What Houzzers are commenting on: