American Red Cross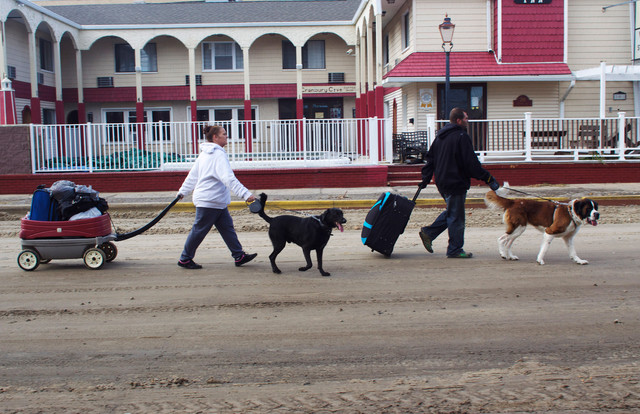 Photo by Les Stone/American Red Cross
Rose and Kris Drzymala left their home in Seaside Heights, N.J, on Monday as Hurricane Sandy was bearing down on their Jersey barrier island off Toms River. The next day they were able to get back to the two dogs they had to leave behind, but by Wednesday they had packed up clothes and precious possessions and were headed for an evacuation bus to take them to the Red Cross shelter in Pine Belt Arena in Toms River, N.J., which can accommodate pets.
What Houzz contributors are saying:

1. Preassemble emergency kits for every member of the household, including pets. If you live in a region at risk for hurricanes or flooding, pack these kits now and keep them in an easy-to-grab location should you ever need them. Include: Three days' worth of nonperishable foodsAny required openers, disposable utensils etc.Three days' worth of bottled water (about 3 gallons per person)Battery-powered or hand-crank radioSpare batteriesBasic toiletriesMedicationsFirst aid suppliesSpare eyeglasses or contactsBed linensToilet paperHand sanitizerChange of clothing and shoesCopies of vital documents, especially insurance information, house and car deeds, photocopies of your driver's license and credit/debit cards, medical records and prescriptions. You also can scan these and keep them on a remote data storage site such as Google Docs, but if you don't have power or Internet access, you may not be able to retrieve them right away.Spare keysCash (include smaller bills, as merchants may not be able to make change)Zip-top plastic bags and trash bagsPhone numbers of close relatives or other emergency contacts. Include at least one person who lives out of state or in a location that won't be affected by the storm.
What Houzzers are commenting on: