dRemodeling
Kitchen & Bath Remodelers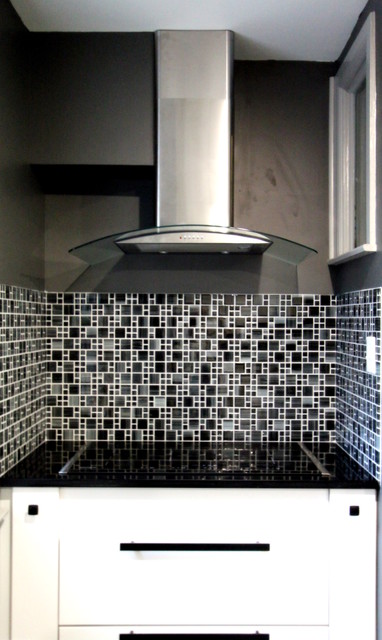 Monochromatic glass backsplash
This kitchen is a complete transformation in University City. The original kitchen, while relatively spacious, was not optimized for use and showed a great deal of age in the cabinets. The clients dreamt of a modern overhaul for their aging kitchen and requested a monochromatic scheme. The new kitchen is beautiful with the appeal of a high-design space and the function of a well-designed one.
The new kitchen hosts stark white cabinets with oversized cabinet hardware. New stainless steel appliances are included as well as a new kitchen island. The kitchen countertops are a crisp black which replace the old laminate countertops. One of the most striking elements in the kitchen is the new flooring: a combination of grey, black, and white tiles that produce a woven effect. This flooring is a drastic change from the existing linoleum floor.
The addition of a new isolated cooktop nook is a beautiful feature in the new kitchen. Backed by gorgeous black and white glass tiles and paired with a modern steel range hood, this new cooking area is clean and functional.
The kitchen is tied together by black and
white glass backsplash
throughout the kitchen, which shows movement and sparkle above the countertops. New glass pendants hang over the spacious kitchen island and a dramatically arching faucet tops the new sink. The final result is a completely monochromatic space that is defined by modernity and crispness.