Abelow Sherman Architects LLC
Architects & Designers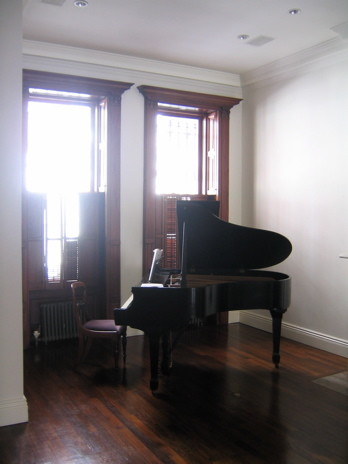 Abelow Sherman Architects LLC
RAVITCH TOWNHOUSE Upper West Side, New York Partner-in-Charge: David Sherman Contractor: Yorke Construction Completed: 2001 Project Team: David Hendershot, John Barbato, Elyse Lau A NYC Landmarked brownstone was renovated for a family that had returned to New York after living abroad for many years. The house had been originally constructed in 1892, and renovated in 1987 in a way that overtly highlighted the contemporary alterations, including a two-story sunroom addition in the rear yard. A magnificent mahogany staircase remained in perfect condition on the parlor level. The architects were governed by an impulse to use modern sensibilities (openness, simplicity) to achieve a subtly different take on a classic typology. The new owners wished to open the house up to be a much brighter, more light-filled design, with a consistent vocabulary which respected the historical original details. The basement level was gutted and redesigned in a plan configuration that recalled classic brownstone layout for mudroom, kitchen, pantry, and dining relationships, with all new millwork in a neutral furniture style. New recessed lighting was carefully placed between original wood joists throughout the house, greatly intensifying the spacious quality of this unique 20-foot wide structure. Custom light fixtures were designed for the centers of the kitchen and sunroom. Yorke Construction's artisans and craftsmen rebuilt much of the house to give it finishes as fine as its ?bones?, plastering, reworking hardware, setting stone and tile, installing new finish floors and new fireplace surrounds. A new wood stair was built in the sunroom to replace a metal one.
What Houzz contributors are saying:

Do you have a
music room
in your house? If you've got a piano or even just a place where everyone could play some handheld instruments then the rainy months are definitely the time to gather together in this space. You all want to be indoors anyway so enjoy this time together to make some music.

Now this is how to do a large grand piano in a
small space
. Make it deliberate, keep the surroundings simple, open the piano up for a great acoustics and a great shape, and enjoy.
What Houzzers are commenting on: