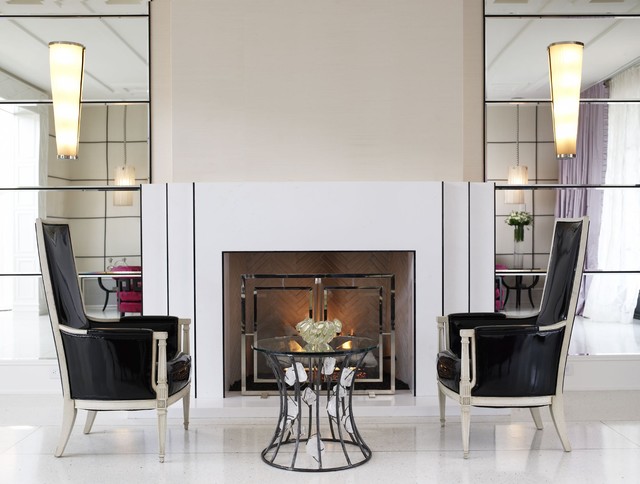 Modern Living Room
This photo has 5 questions
What Houzz contributors are saying:

My favorite show, Zac Posen, was probably not the most avant-garde, but it showed such a clear understanding of craft, history, a woman's body and hints of restrained Art Deco flair. His silhouettes perfectly balanced structure and flounce, and added just the right amount of detail. I'm sure the celebrity stylists are in a frenzy trying to score his dresses for awards season.

Style Secret: Mirrors, MirrorsThe question of mirrors in this style is not whether, it's how many. (Mirrors and movie stars were made for each other, after all.) Mix mirrored panels, framed mirrors, furniture and accents to create sparkle and cast light. Use them judiciously, however, or you'll feel like you're in a carnival funhouse. While a layered effect, such as a framed looking glass mounted on a mirrored wall, can be striking, a lot of different mirrors reflecting each other will add up to visual confusion. Behind the scenes: You should always pay attention to what a mirror will reflect, but it's especially important with Hollywood Regency's emphasis on showcasing people at their best. Guests may not mind catching a glimpse of themselves as they sip a drink or nibble a canapé, but it's a rare soul who wants to watch herself consume a three-course meal in the dining room. If
a wall mirror
won't work in your space, consider other reflective surfaces, such as mercury glass lamps and mirrored tabletops or picture frames.

Black patent makes a suitably sassy partner for the mirrored walls, overscale sconces and other art deco elements of this room.
What Houzzers are commenting on: