Abelow Sherman Architects LLC
Architects & Designers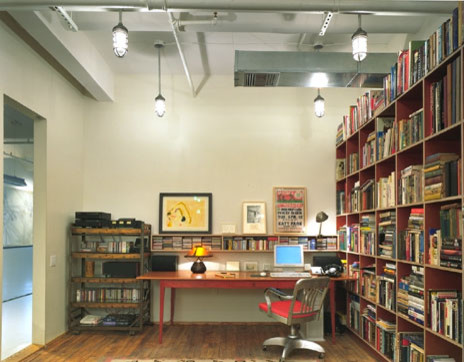 Abelow Sherman Architects LLC
SIEGEL SWANSEA LOFT Flatiron District, New York Partner-in-Charge: David Sherman Contractor: Massartre Ltd. Photographer: Michael Moran Completed: 1997 Project Team: Marcus Donaghy PUBLICATIONS: Minimalist Lofts, LOFT Publications, March 2001 Working at Home: Living Working Spaces, December 2000 Interior Design, March 1999 Oculus, March 1999 The writer/critic Joel Siegel and his wife, the painter Ena Swansea, purchased this space with the intention of making a unified living loft and art studio, by integrating the various aesthetic impulses that would normally separate the two programs. The principal desire was to maintain the early twentieth-century character of the shell, with its vaulted ceilings, plaster walls, and industrial details. This character was enhanced by utilizing a similar palette of materials and products to restore the envelope and to upgrade it visibly with exposed piping, electrical conduit, light fixtures and devices. Within the space, an entirely new kit-of-parts was deployed, featuring an attitude towards detail that is both primitive and very precise. The painting studio is located on the north side, taking advantage of the landmarked windows onto 17th Street. It is open to the living space with the southern exposure, but a large Media Room resides between them in the center of the loft. This is the office and entertainment center for Mr. Siegel, containing a state-of-the-art audio/visual system, and creates an acoustically- and visually- private domain. The original wood floor is preserved in this room only, heightening the sense of an island within the loft. The remainder of the loft?s floor has been covered with a completely uniform and level epoxy/urethane finish. Along with the partitions, which are covered in joint compound in lieu of paint, a three-dimensional abstract gray field is established as a background for the owner?s artwork.
What Houzz contributors are saying:

I imagine these shelves serve as storage as well as a loft wall. What's extra great about these is that you can wheel yourself over to whatever you may need in a hurry.

"Art propped against a wall like this creates a casual lived-in look of sophistication. This library is both quite grown-up and just plain fun. With so much well-organized detail, the blank space here is like taking a deep fresh breath."(txranchgirl) "loft bookcases."(akarsten)
What Houzzers are commenting on: