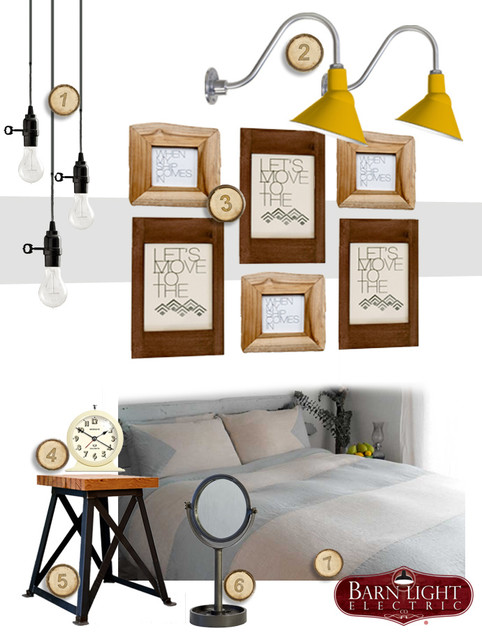 Chic Bedroom with Angle Shade Focal Wall Style Guide
This mood board is all about the "Effortlessly Chic Bedroom"—a space that exemplifies how chic doesn't always have to be fussy and structured.

The muted St. Barts Stripe Duvet Cover begs to be snuggled in with its simple, graphic lines that give a slight nod to the nautical. Pairing it with retro industrial accents like the The Restoration Vintage Industrial Wood Side Table, Industrial Metal Round Standing Mirror and Dolomite Alarm Clock makes this room gender neutral. We love how these minimalist prints from inhauspress's etsy remind us to dream—and they make a great replacement for a headboard! Spotlighting this collection of artwork are two Fire Chief Porcelain Sign Lights. The pop of yellow hues is perfect for creating a focal point in this otherwise subdued space and it's a great way to show off the duality what are normally thought of outdoor lights!

If that look intimidates you, you can always consider the Barn Light Indy Industrial Pendant for your lighting. While the exposed bulb and simple turnkey makes them neutral enough to fit in both casual and formal spaces, they can be customized with bulbs like the Plumen or Nostalgic Edison Bulbs to add a little flair!