sweetdreams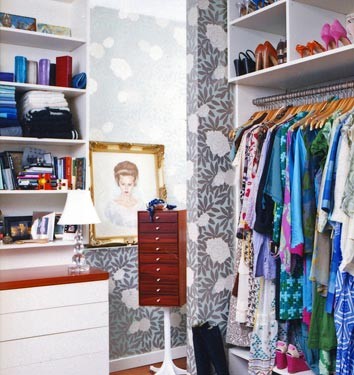 This photo has 2 questions
What Houzz contributors are saying:

This glam closet has always stuck in my brain. Love the wallpaper, love the jewelery stand, love the well-lit portrait.

3. Add art or photos to
your closet space
. Instead of wallpaper you can put up a few pieces of artwork or favorite photos to make your closets a more cohesive part of your home.

Just as important as finding a good fit with a friend or professional is making sure you're ready. Ask yourself a couple of questions:Am I willing to try something new? If you meet every suggestion with, "That won't work," you aren't going to benefit from the other person's wisdom. You may think you're being practical, but it's really a form of defensiveness. "Try it on," as the life coaches say. Before you reject a new way of doing something, try to imagine how it could work and then refine it for you and your family if necessary.Am I willing to get rid of a lot of stuff? Of course there are exceptions to this; you know who you are, and please carry on. But by and large, most of us have too much junk. It doesn't matter how much you paid for it or how priceless it is, sentimentally speaking. If it's covered with dust and stacked in a pile — and you are overwhelmed — you need to get rid of it or a lot of other things to create adequate space.If you can't emphatically answer yes to both these questions, it's a sign you aren't quite ready to get outside help. It is what it is; just don't expect someone to help you rearrange deck chairs on the Titanic. It's OK to be nervous and not quite sure you're going to be able to get it all done. That's normal. Recognizing you need help and being willing to ask for it is an enormous step.In the beginning it may be stressful. You'll be making a lot of decisions and may be feeling ashamed of the condition of things. This should pass. As you gain momentum you should feel hopeful, more confident and even excited. If the tension is only increasing, this is a sign that the person helping you isn't a good fit or, again, you just aren't ready yet.
What Houzzers are commenting on: