LeichtUSA
Kitchen & Bath Designers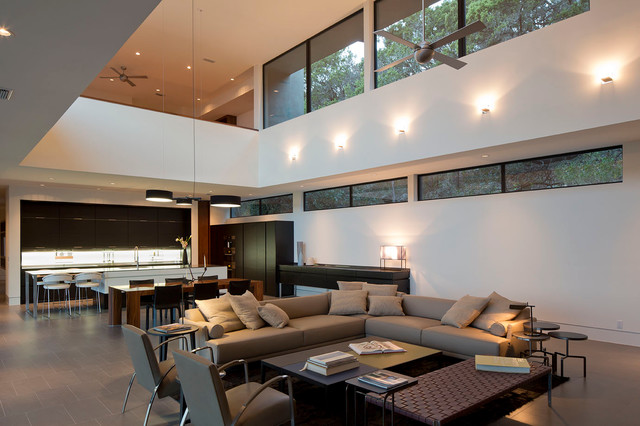 Skyline Project
Stunning Landscapes
The Skyline Residence is a contemporary spec house designed by Dick Clark Architecture in
Westlake
Hills. The site shows off one-of-a-kind views of downtown Austin, Lady Bird Lake, and the surrounding hill country.
Kitchen, dining room and living area are divided only by free
standing Island
, offering a sense of space and unbroken views. Connecting elements: Porcelain floor covering Open ceiling. The kitchen reflects the architectural concept with its straight lines, functionality and minimalism. Handle-less tall units with integrated electrical appliances. An elongated isle block with a floating Stainless legs Silestone Carbono 1,2cm thick provides the central feature.
Kitchen Cabinets By Leicht
Programm Orlando KH257 Black sediment with 805.405 handle
Programme 2 AVANCE-AG Acrylic 120
frosty white
Tall units Handle 805.405 | Vertical channel 860
Island Avance KH 257h Black Sediment
Kohler sink
and faucet
Silestone Carbono 1,2cm thick
Appliances- By Miele
Kitchen Designer By Tom Wilkinson
700 N. Lamar Blvd, Ste 100, Austin, TX 78703
o 512.383.9906
www.aretekitchens.com
Photography by Paul Bardagjy.