The New York Botanical Garden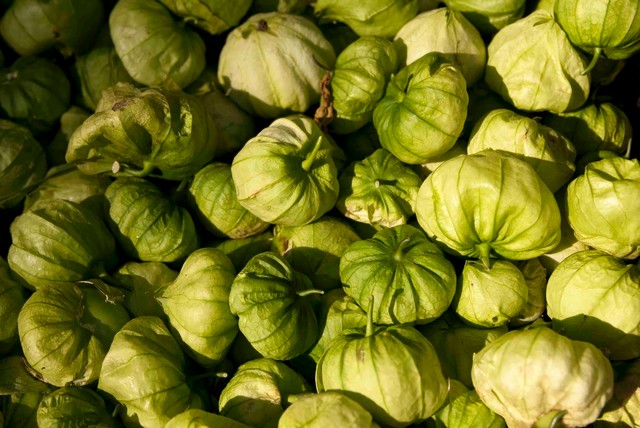 Tomatillos at the Farmer's Market
Photo by Ivo M. Vermeulen
What Houzz contributors are saying:

Planting and care: Wait until the frost has passed and the soil has warmed up before planting outdoors. Choose a site with rich, well-drained soil in full sun. Work in compost and a low-nitrogen fertilizer before planting. Plant deeply, burying about two-thirds of the plant. Leave 1 1/2 to 2 feet between plants. Tomatillos also do well in containers. A 12- to 15-gallon size is good, though they will grow smaller pots. Water thoroughly after planting. Add supports at this time as well, whether traditional tomato cages, stakes or another sturdy structure. Nonmetal stakes or cages won't burn the plant if they get hot. As the plants grow, reaching an eventual height of 3 to 4 feet, attach the stems to the supports with soft ties.Water regularly, about 1 to 2 inches directed to the base of the plant. Keep the roots moist but not soggy Mulching helps preserve water and keep weeds down. To encourage fruit set, feed the soil with a low-nitrogen fertilizer once blossoms appear. Tomatillos aren't bothered by many pests and diseases. Providing good air circulation around the plants will help prevent early blight, and staking will frustrate snails and slugs. Other problems you might encounter are aphids, beetles, leaf-damage insects and powdery
mildew
.Harvest: Pick the fruit when it has filled the husk but is still firm to touch, and the husk has turned brown and started to split. Remove the husk and wash off the fruit just before use.