Thrifty Decor Chick
Media and Bloggers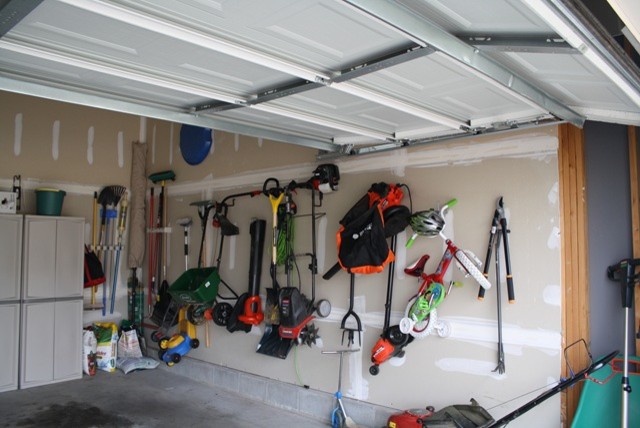 Garage
photos c/o Thrifty Decor Chick
What Houzz contributors are saying:

Sarah from Thrifty Decor Chick cleaned out all of the junk in her garage. Once it was clean, she wanted to keep it that way, so she used a combination of hooks and plastic holders to get everything up and off of the floor. Now, there's a place for everything, and everything has its place. Have you tried hanging things in your garage? Or do you have another storage method?

Getting as much off of floor as possible was also a big priority for Sarah of the blog Thrifty Decor Chick. Her garage had become like so many others: a place to store every possible bit of clutter. She picked up some holders from the hardware store for brooms, rakes, mops — anything with a handle. Heavy-duty hooks took care of the rest.

To round out your completed chores, clean and oil your tools, drain gas-powered tools and get everything organized. While you are in the garage, make sure to get that snow blower primed and ready. Snow will be here before you know it (if it hasn't hit already).Tell us: How do you get your garden ready for winter?
What Houzzers are commenting on: