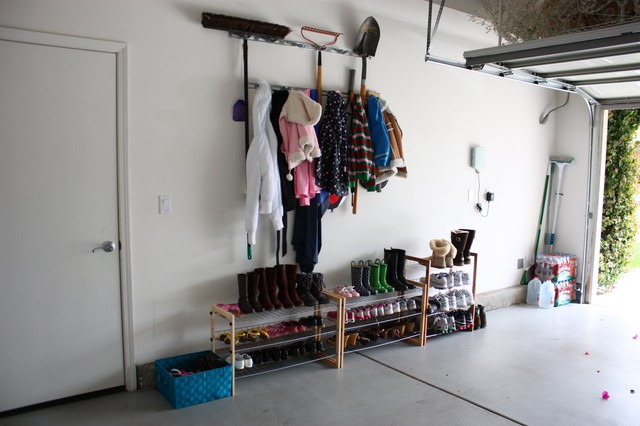 Garage
Photo courtesy of Erin at Sunny Side Up
http://kennyanderin.blogspot.com
What Houzz contributors are saying:

San Diego mother and blogger Erin, of Sunny Side Up, tries to straighten her garage out once a month, in order to keep things from getting too overwhelming. Like Chris from Just a Girl, the garage door is the one most often used by the family. So Erin put out a shoe rack to keep her family's most worn shoes neat and tidy (and out of the house).

Like Chris, Erin of Sunny Side Up tends to use her garage door as the main entrance for her home — so it often becomes a gathering place for shoes and coats. A neat and tidy shoe and coat rack encourages her children to place their own clothes in the right place and makes it easy when searching for that much-loved pair of pink Velcro sneakers. Storage on the ceiling and walls saves room for larger items, and things that are used on a daily basis.
What Houzzers are commenting on: