Luo Zongze
Interior Designers & Decorators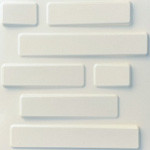 new embossed wall paper
WallArt brings your walls to life with her modern and eco friendly embossed wall paper made out of the fibrous residu of sugarcane. This fibres of crushed sugarcane stalks, remaining after raw sugar is extracted from the juice of the sugarecane by shredding it, is now the raw material, called bagasse, that forms the base of this easily installed eco friendly product.
The raw material used for our embossed wall paper is 100% recycled, compostable and is therefore 100% biodegradable.
In 2009 in the United States it was chosen by interior designers as on of the best and most innovative
eco friendly home decor
product of the year.
The WallArt embossed wall paper is made out of renewable sources which are biodegradable and therefore contribute to sustainability. The WallArt embossed wall paper is designed that when put together they form a pattern. After installing them they can be painted in every colour which fits the interior of your house or a new to be created style.