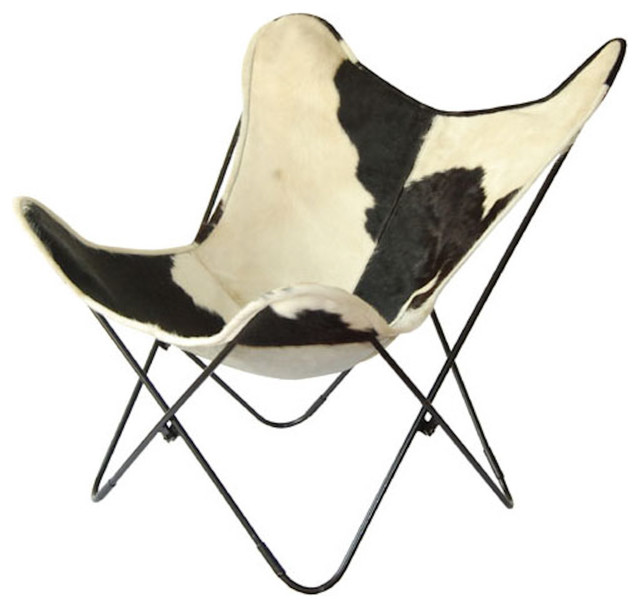 What Houzzers are commenting on:
Original "The Bessy" Butterfly chair Big BKF leather chair models
The Bessy is a Big BKF extremely soft black & white cowhide cover with black iron.
BIG BKF Buenos Aires offers a select variety of designer premium leather lounge chairs based on the original BKF (1938) butterfly chair design. All of our premium argentine leathers are hand-selected and artisanally made. Frames are quickly assembled & disassembled into four pieces, optimal for easy transport and storage.
Shipping Times
We guarentee our product to arrive within 5 business days from the time of purchase.
Shipping Weight
24 lbs or 11 kg / per unit.
Measures (cm)
Frame assembled = 85h x 78w x 78d
Seat leather cover = 84w (top) x 80w (bottom) x 128L (diagonal)
Packaging (Carrying bag) = 106L x 20w x 16h
Eco-Packaging
We care about the environment.
Big BKF's new eco-friendly tote bag comes with every Big BKF chair purchased and makes for easy portability and storage.
Packaging Characteristics:
• Recyclable: Since it is 100% polypropylene.
• Waterproof: Do not change their physical properties when immersed in water or other aqueous products.
• Resistant to chemicals: It is inert to most chemicals, organic and inorganic, including acids, bases and salts.
• Soft: It resembles, at low weights, the texture of a fabric.
• Porous: Air permeable and impermeable to small solid particles (dirt, dust, etc.) and liquids under certain conditions.
• Heat resistant: Does not begin to shrink to 110 º C and melts at 130 º c.
The story of the butterfly chair.
Three young architects (one Catalan, Antonio Bonet Castellana, and two Argentines, Juan Kurchan and Jorge Ferrari Hardoy) had arrived in Argentina after they met in the Parisian atelier of Swiss architect Le
Corbusier
.
In December 1938 the BKF was born from ideas that began in Paris, a chair consisting of an iron frame of 12 mm with a leather hanging. The leather was commissioned by a saddler, Rossi Caruso, that manufactured the mounts for polo players of the time. The artisan, Cuatrini, had his workshop in Castelar (Buenos Aires). He not only made Bonet's other models, but also the
prototype
for the Safari BKF designed by Amancio Williams, which they sent to New York. The BKF chair was on display at Harrods and was presented in the First Hall of Decorative Artists of Buenos Aires in 1943, organized by the National Ministry of Culture, and won First Prize. Antonio Bonet and his daughter.
BKF at MoMA.
In the sixties, the BKF was produced by Six, a company at which John Kurchan was a partner.
Like any piece of culture, the most interesting thing is to find the original, a very difficult thing to do with the BKF. Perhaps the original is the one displayed in
the MOMA in New York.
This piece of furniture works in environments like a
contemporary sculpture
, aerial and lightweight, not depending on the architectural box, either inside or outside, and it possesses independence because it can stand on its own and still meld with other furniture without blending in. The BKF represents not only the design to come, also the design criteria characteristic of Argentina: constructive synthesis, functional freedom and current form.
The BKF is considered one of the pieces of the most prominent modernist industrial design and distributed the last half century, and is without a doubt, the Argentine design product most known worldwide.
Big BKF BUENOS AIRES, your next designer armchair
Product Specifications
Sold By

Category

Style