Modern Rustic Homes
Architects & Building Designers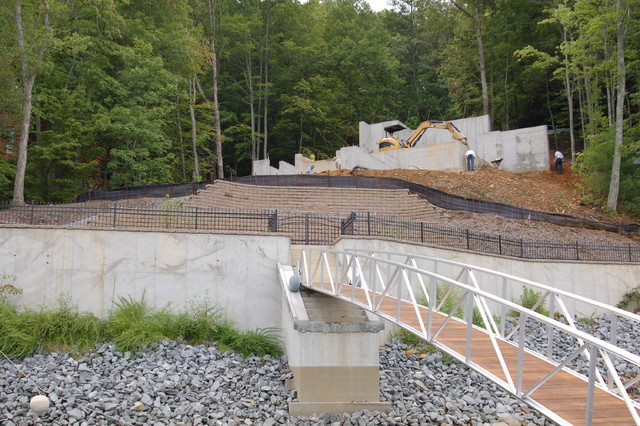 Lake Bluff Lodge (Under Construction)
Week Five – Pouring The Slab & Framing Begins

After preparing the site to receive the poured concrete wall foundation the framing has begun. Every square inch of Lake Bluff Lodge will be used. Every room will have a generous view of Lake Blue Ridge. Stay tuned for the next installment to see the engineered floor trusses we will use to provide wide open spaces inside the house.

We continue to have a lot of rain…..so things are still moving a little slow. However, with short breaks in the rain, we pack the gravel down, poured the slab and begin framing the terrace level (basement). With Tropical Storm Isaac in the Gulf of Mexico just gaining landfall off the coast of New Orleans, we still expect to get more rain here in the North Georgia Mountains. We press on however by packing down the gravel and covering the floor area with a heavy layer of plastic. This creates a vapor barrier and helps keep the terrace level (basement) from getting damp. After the plastic is secured, we place rebar over the floor surface to give the foundation strength. Now we are ready to pour the concrete over the rebar to form the foundation. Once the foundation slab is cured, we begin framing the terrace level.

This house will progress rapidly with the framing of the walls. Trusses will be delivered on Friday for the main level sub-floor. The balance of the framing will be finished next week. The house occupies the site in a way that takes full advantage of the property and the view.